T.I. releases 'Us or Else' EP condemning police brutality and makes every lyric count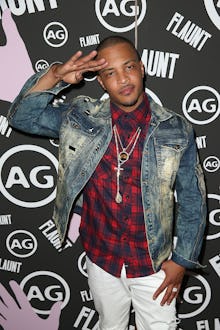 T.I. released Us or Else, his most socially conscious EP, in the wake of continued police brutality and burgeoning racial tensions across the nation. The six tracks include several nods to the Black Lives Matter movement, the failed war on drugs, gun violence within and without the black community and the need for reparations.
Us or Else is streaming exclusively on Tidal, though a subscription is not required to listen to the EP. It features verses from Meek Mill and other southern luminaries Killer Mike, Big K.R.I.T. and Qavo from Migos. Each of them do work to dig beneath the surface level talking points of all these issues, and T.I. often shines brighter than all of them. He makes every single lyric count to craft a thought-provoking look at everything that's at stake in the movement for black lives.
"No we will not stand here in silence while they take the lives of our brothers and sisters," T.I. raps in the opening lyrics of "We Will Not." "We will not turn a blind eye to the murder with no repercussions." It sets the tone for the entire EP, which chooses actionable forms of protest in place of aimless raised fists.
"See what happen when athletes'll no longer play for you/ Tell them accountants to pray for you," T.I. raps later in "We Will Not," recommending boycotts. "Turnin' them profit to loss/ When we won't go shop in the mall/ United we all, stuck in this bullshit together."
In "40 Acres," T.I., Killer Mike and B. Rossi call out the government for failing to provide reparations to black people whose ancestors were slaves, with B. Rossi rapping, "Ain't no leaders only leisure, only reapers, ain't no sowers/ They get higher, we get lower, damn it's over/ If racism ain't in color then it's damn sure in the class." 
The track also includes a slight dig at Republican presidential nominee Donald Trump: "Take your ass out the trap middle finger to Trump," T.I. raps.
Throughout the EP, T.I. makes it very clear that the United States' history of racism is extraordinarily important to understanding today's movements. On "Warzone," T.I. shuts down critics who try to argue racism ended with slavery or black suffrage. Its  linger. "This modern-day slavery, the prison publicly traded," T.I. raps. "And the jig's up/ The Constitution and Emancipation Proclamation's just a fuckin' piece of paper."
T.I. is also highly critical of his own past on the EP. "Hell ya, say money, hoes, cars, clothes," he raps on "I Swear," the album's final track. "What my life was all about but that's before I thought about it/ What the world would be like when my daughter 25/ Would I prevent or contribute to my grandson dying."
It's a similar sentiment to one he offered during an appearance on The Daily Show. Host Trevor Noah played devil's advocate and asked T.I. to address some standard criticism. "You get people who say 'I hear you guys saying you want justice, I hear hip-hop stars and fans saying that this is not right,'" Noah said paraphrasing the criticism. "But then in hip-hop, people are talking about guns, people are talking about shooting, people are saying things like fuck the police.' And they go like, 'How is this helping the dialogue?'"
T.I. responded with simple and elegant logic. "People need to take into consideration that hip-hop, traditionally, has always been a reflection of the environment the artist had to endure before he made it to where he was," he said. "So if you want to change the content of the music, change the environment of the artist. And he won't have such negative things to say."
If it wasn't clear on any of the numerous times T.I. has spoken to issues of police brutality and politics in the past, the King of the South has an entirely new agenda on his hands.
Check the track list below, and listen to Us or Else here.
1) "We Will Not"