At least 148 bodies from migrants' capsized boat have been found off the coast of Egypt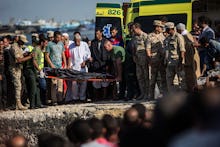 After a boat carrying as many as 600 migrants and refugees en route to Europe capsized Wednesday off the coast of Egypt, by Friday, 148 bodies had been retrieved from the Mediterranean Sea by the Egyptian coast guard.
The boat capsized approximately 12 nautical miles from the Egyptian port city of Rosetta. 
The boat's capsizing could potentially become one of the deadliest tragedies involving migrants fleeing to Europe via waterways.
So far, citizens from Egypt, Sudan, Eritrea, Somalia, Syria and Ethiopia have been identified as traveling in the fatal boat, according to the United Nations High Commissioner for Refugees. 
Approximately 150 people have been rescued, with search efforts continuing. 
Many of those who survived found themselves detained by Egyptian law enforcement once on land, with some being handcuffed to their hospital beds. 
"We are deeply concerned at reports that hundreds of people may be missing at sea," UNHCR spokesperson Matthew Saltmarsh said, according to the Guardian.
"Events like this highlight the importance of rescue operations as part of the response to the movement of refugees and migrants in the Mediterranean and the need for real, safer alternatives for people needing international protection," he added. 
As for what those alternatives look like, they include investments in longterm and sustainable solutions, Marwa Hashem, UNHCR's Assistant Public Information Officer in Cairo explained in an interview.
"The safe alternative is actually addressing the route causes: opening resettlement in these countries, refugee family reunification, scholarships and access to education, for example," she said.
Affording basic human rights — such as education — to vulnerable populations would inhibit the need to flee, many policy advocates argue. And, for those migrants and refugees who have already fled, education is a necessity for avoiding poverty and promoting social inclusion in the countries they've resettled in.
Hashem said she was encouraged by Monday's adoption of the New York Declaration, a commitment made by 193 countries during the U.N. General Assembly meetings to safeguard migrants and refugees who are fleeing their home countries.