Over a dozen Yosemite National Park employees have filed sexual harassment complaints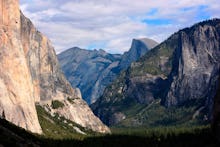 One of the United States' national parks has become a national site of sexual harassment. According to the Washington Post, 18 Yosemite National Park employees have filed complaints of sexual harassment and bullying in the workplace.
The allegations include claims that a Yellowstone maintenance supervisor paid a park staff member for sex. The Washington Post also reported that multiple female maintenance staff members were subjected to years of sexual harassment from their supervisors.
Yosemite's chief of Fire and Aviation Management, Kelly Martin, said she can recall three incidents of workplace harassment, including a park ranger repeatedly spying on her through a bathroom window, a supervisor who tried to kiss her and another supervisor who ran his fingers through her hair. 
"I feel that I feel I can no longer remain silent," Martin said in a statement, according to the Washington Post.
Several government offices and officials are currently involved in investigating Martin's and other employees' claims, including Park Service law enforcement officials, who produced an internal report evaluating the allegations. 
House Oversight and Government Reform Committee Chairman Jason Chaffetz quoted an excerpt from the report, stating, "The number of employees interviewed that described horrific working conditions lead us to believe that the environment is indeed toxic, hostile, repressive and harassing."
Yosemite is only the latest national park to see such allegations. According to NBC News, complaints of "sexual exploitation, intimidation and retaliation" are under investigation at Yellowstone National Park, while a report found that many male Park Service employees at the Grand Canyon demanded sex from their female colleagues and "retaliated against women who refused."
The Washington Post reported that the Park Service will require a harassment prevention online training for staff and is working on creating clear channels for victims to report harassment.
"I believe we have a problem," Michael Reynolds, the Park Service deputy director for operations, said at a hearing. "And we should be making very urgent changes to that culture."