Vulture mixed up Ta'Rhonda Jones and Viola Davis because all black women look the same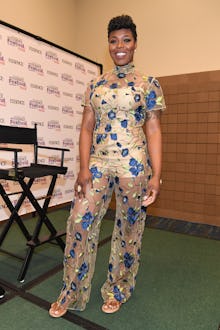 On Friday morning, New York Magazine's pop culture site Vulture tweeted an article written about Empire's Ta'Rhonda Jones' Conan interview. 
However, the photo accompanied with the tweet wasn't of Jones. It was a photo of Emmy Award winner Viola Davis instead. Davis stars in the critically acclaimed ABC show How to Get Away With Murder.
Vulture deleted the tweet, but here is a screenshot:
The photo mix-up is quite a head-scratcher. Jones and Davis are not even close to the same age, for one. While it's believed to be true that "black don't crack," Davis is 51 and Jones is 28. Also, their styles are completely different. Jones often has an edgy look whereas Davis usually dons a colorful conservative look.
It's not hard to see that Jones and Davis are completely different people — and don't even look alike. Several Twitter users agree: