Donald Trump releases expanded list of potential SCOTUS picks — and there's only one woman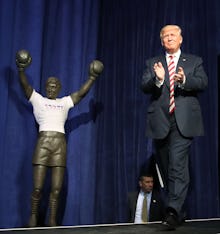 Donald Trump will release an expanded list of people he could nominate to the Supreme Court if he were elected president, according to a report from NBC News — a list that includes just one woman.
The 10 new names Trump will release brings his total number of potential high court nominees to 21 — only four of whom are women.
The potential female nominees include U.S. Court of Appeals for the Armed Forces Judge Margaret Ryan, whose name is on the latest list, as well as Colorado Supreme Court Justice Allison Eid, Michigan State Supreme Court Justice Joan Larsen and U.S. Court of Appeals for the Seventh Circuit Judge Diane Sykes.
Trump's list — which he began rolling out in May, with a roster of 11 names — is intended to get Republican voters onto his side, reminding them that the ideological balance of the court is on the ballot in November.
However, the lack of women on his list tees up yet another line of attack for Hillary Clinton's campaign to use against Trump — who faces dismal approval ratings from women voters.
A new McClatchy-Marist poll released Friday found 67% of women voters have an unfavorable opinion of Trump. Clinton, on the other hand, is viewed favorably by 51% of women voters, according to the same survey.
Clinton's campaign is hoping that gender divide can help propel her to the White House in November.
The Clinton campaign already released a new ad Friday using Trump's own negative words against women, saying Trump's attitude toward them would have a negative impact on young girls in the country.
"Is this the president we want for our daughters?" reads the final image of the ad, which featured clips of Trump calling women fat and ugly.