Hillary Clinton ad shows how Donald Trump's sexist comments could affect young girls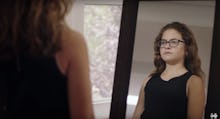 A new ad released by the Hillary Clinton campaign takes aim at some of the sexist comments that her Republican rival for the presidency, Donald Trump, has made in the past.
The Democratic candidate's ad features a series of diverse adolescent girls examining their own faces in the mirror. In the background, audio of some of Trump's misogynistic musings can be heard.
"I'd look her right in that fat, ugly face of hers," Trump can be heard saying, a comment he once made in reference to longtime rival Rosie O'Donnell.
"A person who's flat-chested is very hard to be a 10," he says at another point, a quip pulled from an interview he once gave on Howard Stern's radio show.
Trump can also be heard calling women "slobs" and "pigs." 
The ad's release comes just days after Trump's campaign announced efforts to ramp up outreach to women voters, primarily by forming the Trump-Pence Women's Empowerment Tour. The tour featured a coalition of women, primarily of color, to serve as ambassadors among female voters — a key demographic among which Trump's support continues to flounder.
But Trump's misogynistic comments aren't just hurting his support among women; a NBC News/Wall Street Journal poll released Thursday found that a combined total of nearly 70% of American voters in general have "concerns" about the language Trump uses when he talks about women, immigrants and Muslims.
The end of the video puts a powerful question to its audience: "Is this really the president we want for our daughters?"
Time will tell.
Watch the full ad below: