Kesha makes impassioned speech to fans at concert regarding her rape case against Dr. Luke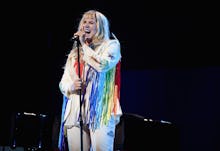 Kesha has been traveling across the country on her Fuck the World tour, performing in smaller, more intimate venues and reintroducing herself to her fans. Thursday night, the singer took a moment to thank the audience at her Brooklyn stop for supporting her over the course of her lengthy, ongoing sexual assault case against longtime producer Dr. Luke. 
"I honestly don't know if I would have made it the past few years without you guys. Some of you may know I'm in a lawsuit," Kesha told the crowd. "Thank you for standing by me. I think that there's some people that were thinking I'll just sit around waiting to die. That somebody fucked with the wrong woman."
The impromptu speech was one of the few times Kesha herself publicly addressed her sexual assault charges against her producer. The fear that she would use stage time to address her allegations led her label to consider canceling her Billboard Music Awards performance in May. That incident followed a New York Supreme Court judge rejecting Kesha's preliminary injunction request — which would have permitted her to end her contract with Sony Music early — back in February. Kesha is currently pursuing appeals in New York.
"I can't share my new music with you," Kesha explained at the Brooklyn show, where she performed performed covers of Dolly Parton's "Jolene" and Grace's "You Don't Own Me." "Keep praying, someday it will come. I can't wait for that. No one can own you. Because to truly own you means to own your happiness. No one can own your fucking happiness. Promise me you will never let them take that from you!"
Fans began shouting the rallying chant "Free Kesha" at one point, a phrase that became a trending hashtag for fans demanding that Sony Music release the singer from her recording contract.
Despite her legal troubles, being forced to work with her alleged assaulter and not being able to freely release new music, Kesha remained surprisingly upbeat: "Ain't nobody got time for hate," Kesha concluded. "Always have hope in your heart. I do!"