Watch the 'Rogue One' meets Pixar mashup you never knew you needed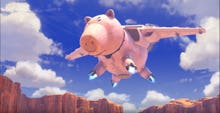 When Rogue One: A Star Wars Story meets Pixar, are the heroes going to a galaxy far, far away; to infinity and beyond; or both? That's the essential question to tackle in this Rogue One-Pixar mashup from YouTube channel Darth Blender, which uses a plethora of Pixar characters to round out the Rogue One cast in Rogue One — A Pixar Story. 
Merida from Brave is a worthy Jyn Erso, Buzz Lightyear's arch nemesis Emperor Zurg fills Darth Vader's shoes quite well and the Death Star is replaced by Dr. Porkchop's spaceship from Toy Story 3 — and honestly, it's just as intimidating. 
Our only gripe is WALL-E as Rogue One's sassy new droid, K-2SO — not just because WALL-E doesn't speak much, but also because it's hard to imagine him saying, "The captain says you are a friend. I will not kill you." Though frankly, when a Rogue One mashup decides not to include Jar Jar Binks (dear God, why?), it's already a win in our book. 
Watch the Rogue One-Pixar mashup below.