Anthony Weiner's cell phone has been subpoenaed by the US Attorney's Office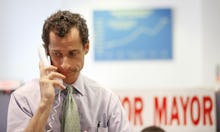 After the Daily Mail's report Wednesday detailing former congressman Anthony Weiner's alleged sexts with a 15-year-old girl, some speculated Weiner could face criminal charges if the latest scandal proved true. On Thursday, CNN reported the FBI and the New York Police Department have "opened preliminary investigations" into the allegations that Weiner was sending sexually explicit messages to "a purportedly underage girl."
The U.S. Attorney's Office has subpoenaed Weiner's cell phone, CNN reported, along with "other records."
The newest allegations against Weiner were first reported in the Daily Mail on Wednesday, which claimed that Weiner had a nine-month "online sexual relationship" with a 15-year-old girl. The Daily Mail included screenshots of the alleged texts and messages sent between Weiner and the unnamed minor, including selfies of the politician and graphic sexual messages.
In August, Weiner was involved in another sexting scandal when the New York Post reported on leaked lewd photos sent by Weiner to another woman, taken as his toddler son was lying next to him in bed. Shortly after that news came to light, Weiner's wife — Huma Abedin, top aide to Democratic presidential nominee Hillary Clinton — announced her decision to separate from her husband.
While past sexting scandals may have been embarrassing and career-destroying for Weiner, this latest news, if true, isn't just a scandal — it could be a crime.
In a statement sent to CNN, Weiner did not explicitly answer the question of whether or not he had sexted with an underage girl, and seemed to imply that at least some elements of the news were false, saying: 
I have repeatedly demonstrated terrible judgment about the people I have communicated with online and the things I have sent. I am filled with regret and heartbroken for those I have hurt. ... While I have provided the 'Daily Mail' with information showing that I have likely been the subject of a hoax, I have no one to blame but me for putting myself in this position. I am sorry.