In defense of the wet hair look seen on everyone from Kim Kardashian West to Teyana Taylor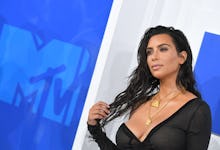 Last September, Beyoncé made history as the first black musician and the third black woman to ever grace the cover of Vogue's September issue — and she did it all while looking like she had just come from a water balloon fight. 
While her skin remained dry, her bob was styled to look as though it was sopping, with heavy ends and wet curls.
As with anything the leader of the free world, Beyoncé, does, think pieces followed. "Is wet the new dry?" MTV mused. "Beyoncé and the Politics of Stringy Hair," the Atlantic stated, mistaking this obviously wet hair as "stringy." "Beyoncé's Wet Hair Isn't Political," the Cut quickly rebutted, with Beyoncé's hairstylist on the Vogue shoot remarking, "It's artistic, it's not stringy; it's wet hair."
Though it might not be for you, this style has some serious advantages. 
And it appears to be catching on. Since the Vogue cover and following controversy, we have only seen more of this wet hair, especially as of late. 
There was Kim Kardashian West at this year's MTV Video Music Awards. 
There was Ashley Graham also at the 2016 VMAs. 
There was the Altuzarra show at New York Fashion Week, which had nearly all the models walk out with wet-looking hair. 
And there's been Teyana Taylor, who wore wet hair in the music video for "Fade," as well as during several appearances afterward. 
According to Teyana Taylor, she regularly achieves the look with just one product. In a recent interview with Wendy Williams, Taylor noted that all she does is use some mousse. 
"You keep it a little wet and then add a little mousse to the top part," she said. "It's crunchy but everything underneath is still wet. A little trick to keep it in place." 
But still, despite its ease and the approval of many high-profile women, it has perplexed people. 
Did these women really just hop out of a shower? 
And also, why? 
But we really shouldn't be wasting time trying to figure out why these women are wearing their hair like this. Because that means less time celebrating it. 
In truth, the wet hair look is a lazy girl's dream, and it couldn't have come at a better time. According to hairstylist Vernon François, whose clients include Lupita Nyong'o, Karrueche Tran and Tracee Ellis Ross, it is incredibly low-maintenance, and highly summer-appropriate. 
"This very clean, fresh, 'just got out of the pool' finish works well for the summer season," François said in an interview. "It's very simple to recreate, plus has the benefit of being low maintenance after your products have been applied and you're happy with the style. So it's convenient, on-trend and a great 'style and go' choice."
You hear that? "Style and go." The wet hair look is 2016's topknot, the lazy person's go-to choice when they just don't really care anymore. 
Consider this a blessing. 
Though, the wet hair doesn't exactly mean taking a shower and then running out of your house.
For François, it's really just about three products. 
"Firstly, it's best to style your hair after showering. Gently squeezing your hair dry, with a microfiber towel, will help to keep moisture in and define your curl pattern. After detangling, apply a nourishing moisture spray for healthy bouncy curls," he said, noting that he likes his his own re-vamp spray from his collection best. "A mousse will then hold your curls in place. Finally, be generous with a really good quality serum, for a high gloss but non-sticky finish."
And then, we suppose, bam: You're Teyana Taylor. 
So rather than asking questions, repeating exactly the same shower joke over and over again or poking fun, how about we all do something a little more productive: Embrace it.