Charlotte protest update: Suspect arrested in the shooting death of Justin Carr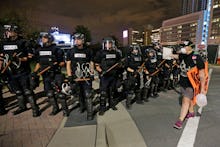 Police announced on Friday that a suspect has been arrested in the death of Justin Carr, who died Thursday after being shot during protests in Charlotte, North Carolina, following the fatal police shooting of Keith Lamont Scott.
Charlotte-Mecklenburg Police Department Chief Kerr Putney announced that 21-year-old Rayquan Borum had been arrested and charged with killing Carr, local Charlotte outlet WSOC reported.
Carr, who was 26, was shot on Wednesday night, near Charlotte's Omni Hotel, the Charlotte Observer reported. Like many, he was gathered as part of massive protests that are ongoing in the city after Tuesday's fatal police shooting of Scott, a married father of seven.
Carr was taken to the hospital and put on life support. He died on Thursday. Carr's family confirmed his death, the Observer reported.
Initial reports indicated eyewitnesses were confused about the nature of Wednesday's shooting. The Observer reported that the Rev. Robin Tanner, who was near Carr when he was shot, told CNN on Friday that the scene was "chaos," and reportedly said it was unclear whether or not Carr had been shot by a civilian.
Sept. 23, 2016, 12:22 p.m. Eastern: This story has been updated.