'Queen of Katwe' reviews: Here's what critics are saying about Lupita Nyong'o's new movie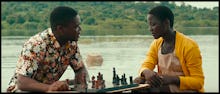 Lupita Nyong'o is finally back in a live-action role after her Oscar-winning performance in 12 Years a Slave (Non-Stop with Liam Neeson shouldn't really count, since it was shot before her Oscar win) in Disney's Queen of Katwe. Based on the critical reception to her new film, it could be another Oscar-worthy role for the actress. 
Queen of Katwe — which also stars David Oyelowo and newcomer Madina Nalwanga — follows the true story of Ugandan chess prodigy Phiona Mutesi, who had unparalleled rise to prominence in the sport, first covered in a 2011 ESPN profile by Tim Cothers. 
The film currently has an 86% "fresh" rating on Rotten Tomatoes, with many praising its lead performances and uplifting story, which avoids relying on cliché underdog sports film tropes.
Ahead of its release, here's a sampling of the reviews for Queen of Katwe:  
Alyssa Wilkinson of Vox noted that the film avoided typical tropes of the sports genre, which made it all the more effective: 
It sidesteps a few of the laziest pitfalls into which movies of this sort often dive, and undermines the tropes of its genre with cheer and panache. Instead of succumbing to the tempting but troubling "white savior" narrative that often pops up in movies of its sort, it sticks to its roots and tells a better story. That's not political correctness. That's just good writing.
The New York Times' A.O. Scott meanwhile praised Queen of Katwe's moving narrative: 
"Irresistible" is one of those adjectives that critics should handle with utmost care. No matter how universally charming or winning a movie or a performance might seem to be, there is always a chance that somebody, somewhere, will be able to resist it. For all I know that may be the case with Queen of Katwe, but if there is anyone out there capable of remaining unmoved by this true-life triumph-of-the-underdog sports story, I don't think I want to meet that person.
David Lewis of the San Francisco Chronicle praised Mira Nair's direction and the performance of the film's leads: 
Chess is not the most visual of games, but Nair makes these competitions come alive. She also gets the most out of her mostly nonprofessional African cast, not to mention her two stars, Oyelowo and Nyong'o. To be sure, these won't be the most memorable roles of these two actors' careers, but Oyelowo gives his saintly character a considerable amount of grace and humor, and Nyong'o adds a few nuances to Phiona's overprotective mom.
Conversely, the Hollywood Reporter's Sheri Linden was more critical of the movie — citing its repetition as one of the cruxes in an otherwise inspiring film: 
Year by year, over the story's half-decade, screenwriter William Wheeler parcels out the incidents in Phiona's education and her family's setbacks. Rather than building dramatic tension, the effect is that of protraction and repetition. Adapting sportswriter Tim Crothers' book, Wheeler, who wrote Nair's previous feature, The Reluctant Fundamentalist, takes every opportunity to hammer home its themes, leaving no Chess Metaphor About Life unturned or unuttered.
Queen of Katwe arrives to U.S. theaters Sept. 30.