Here's how ICANN affects speech online, and why everyone is talking about it right now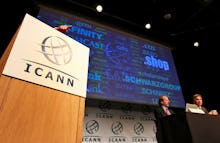 Sen. Ted Cruz is back in action with an ominous warning of internet censorship reminiscent of 1984. The Internet Corporation for Assigned Names and Numbers (ICANN) has become a political battleground following Cruz's recent crusade against the U.S. government's plans to transfer authority of the organization to the international community. 
ICANN, a nonprofit organization, is responsible for coordinating the allocation and maintenance of domain names and IP addresses. The Washington Post has labeled the institution as an "obscure internet agency," but ICANN has been placed in the spotlight not only because of the efforts of Sen. Cruz and several conservative members of congress, but because of the Republican presidential nominee himself, Donald Trump. 
The Republicans' gripe with the transition, which is scheduled to occur on Oct. 1, is the fear that the U.S. government's relinquishing of ICANN control will lead to widespread internet censorship due to the influence of foreign powers.
"U.S. oversight has kept the Internet free and open without government censorship – a fundamental American value rooted in our Constitution's free speech clause," reads a statement published on Trump's official website by the candidate's national policy director, Stephen Miller. 
"Internet freedom is now at risk with the President's intent to cede control to international interests, including countries like China and Russia, which have a long track record of trying to impose online censorship," Miller added.
But a number of experts have discredited Trump and Cruz's claims as flat out "wrong." Sir Tim Berners-Lee, inventor of the world wide web, and MIT professor Daniel Weitzner recently dismissed the Republican's comments in a column for the Washington Post. 
"The misguided call for the United States to exert unilateral control over ICANN does nothing to advance free speech because ICANN, in fact, has no power whatsoever over individual speech online," the pair wrote. "ICANN supervises domain names on the internet. The actual flow of traffic, and therefore speech, is up to individual network and platform operators."
ICANN seems quite aware of these misconceptions, and has a webpage exclusively dedicated to informing readers what the organization can and cannot do.
As of now, the ICANN transition remains scheduled for Oct. 1, though Cruz and several Republican congress members are desperately pushing to block the shift through a spending bill that must pass in order to avoid a government shutdown.