These 3 big issues are at stake in November — but they likely won't come up at the debate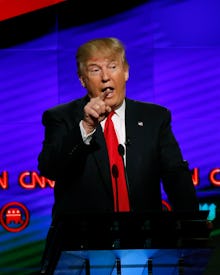 Here's how to stream the debate tonight at 9 p.m. EST.
The 2016 election has largely focused on the personalities of the two leading candidates for president, Republican Donald Trump and Democrat Hillary Clinton.
And by now, polls show that — for better or worse — voters have a solid idea of who they think both Trump and Clinton are.
That should mean that moderators will focus the first general election debate Monday night at Hofstra University in New York on the policies that each presidential contender would champion in office.
Moderator Lester Holt released the three topics the debate will focus on, including "America's Direction," "Achieving Prosperity" and "Securing America."
The debate topics are so vague that they could encompass almost anything.
Still, if history is any indicator, many of the policies that are at the top of the minds of many millennial voters won't come up at all during the 90-minute showdown.
Here are the issues you likely won't hear about during Monday night's debate:
Student debt
College affordability and student debt is the second most important issue to millennial voters in 2016, according to a USA Today/Rock the Vote poll from January.
It was one of the defining issues that helped Sen. Bernie Sanders win over such a large number of millennial voters in the primary.
And it's one Clinton has talked about extensively on the campaign trail, working together with Sanders to propose a plan to both tackle the high cost of college now, as well as help those currently burdened by student debt get out of the hole.
Trump, on the other hand, has focused little on what he would do to tackle college affordability and student debt.
Trump has said he'd make "very low interest" student loans, as well "work on" jobs for students graduating with debt.
He's also added that he'd consider eliminating the Department of Education, which oversees giving subsidized loans and Pell Grants for the poorest students.
In the 2012 debates, the issue vaguely came up when 20-year-old college student in the audience asked both President Barack Obama and GOP nominee Mitt Romney about fearing being able to support himself after graduation.
But instead of talking about student debt, both Obama and Romney talked about job creation, and the debate marched on.
It's likely Clinton will elaborate on her plan if the question of student debt and college affordability does arise.
Yet if past debates are an indicator, we might not get to hear about the issue at all.
Climate change
Climate change is top of mind for many millennials.
A Harvard Institute of Politics poll from April 2015 found that 75% of millennials say global warning "is a proven fact," with 55% saying it's caused by humans' energy consumption.
Clinton brought up climate change in a speech geared toward millennials at Temple University in Philadelphia last week. "If you believe that climate change is real and that we can save our planet while creating millions of good-paying clean energy jobs, join us," Clinton said.
Trump, on the other hand, has called climate change a "hoax."
In 2012, the issue of climate change did not come up in any general election presidential debate.
It was the first time in 24 years that a question on climate change was not asked in the three general election debates, according to Scientific American magazine.
Reproductive rights
A February poll of millennial women from Cosmopolitan found the second most important issue for women ages 18 to 34 was reproductive rights.
Nearly 61%, of millennial women said the issue was a "top priority" for them on the ballot in 2016.
But the issue has rarely come up in 2016 debates, even the Democratic primary debates.
Clinton knocked the primary debate moderators for not asking about the issue during the primaries, bringing it up herself during a primary debate.
She opposes restrictions on abortion rights.
Trump, on the other hand, has waffled on abortion rights throughout his public life.
In 1999, he said he was "very pro-choice." But in 2016, he has run on an anti-abortion platform and said that if the procedure were made illegal, he would support "some form of punishment" for people who have abortions. He later backtracked.