Lester Holt's wife, salary, family, age and other facts about the NBC News anchor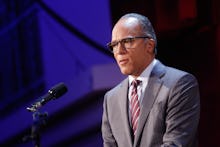 Lester Holt, an NBC journalist for the past 16 years, will anchor his biggest show yet Monday night when he moderates the first presidential debate of the general election. 
The event has high stakes for Hillary Clinton and Donald Trump, who are neck-and-neck in recent polls. A majority of voters are likely to tune in. 
Here are a few things to know about the man who will simultaneously question both 2016 nominees for the first time. 
Holt is a Golden Stater. He was raised in California's Bay Area. But his start in broadcasting came in the early 1980s with a CBS affiliate in New York City. 
Carol Hagen-Holt is an urban real estate agent. Married to Lester since 1982, Carol works in high-end real estate in New York City. 
Holt is the first journalist of color since 2008 to host a presidential debate. The last was Gwen Ifill of PBS. 
_____________________________________________
Read more: 
His nickname is "Iron Pants." Holt got his start at NBC by anchoring MSNBC's marathon coverage of the 2000 election recount. His long stints in the anchor chair earned him that nickname. He also covered the wars in Iraq and Afghanistan. In 2007, he took over weekend anchoring of NBC Nightly News.
Holt's salary is unknown. But it may not be as high as the income Brian Williams, the former Nightly News anchor, drew. When Holt permanently took over anchoring NBC's premier broadcast with 9 million viewers, he made $4.5 million annually. 
Holt reportedly wanted his pay to rise to the $10 million Williams made before he was removed from the show amid a controversy over alleged fabrications. Today, various reports peg Holt's income in-between those two figures. 
The Holts have two sons. One son is also a TV news broadcaster. In 2015, while Stefan Holt was on the air in Chicago, he greeted his father with "Hi, Dad" as Lester previewed that evening's Nightly News broadcast. Stefan now works in New York City for a local NBC station.