Trump didn't mention Bill Clinton's sex scandals during the debate because of Chelsea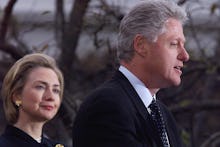 Donald Trump said he was going to mention former President Bill Clinton's sex scandals during the debate on Monday night, but he changed his mind when his saw his daughter, Chelsea Clinton, in the audience. 
"When she [Hillary Clinton] hit me at the end with the women, I was going to hit her with her husband's women and I decided I shouldn't do it because her daughter was in the room," Trump said Tuesday morning on Fox News' "Fox & Friends."
"I didn't feel comfortable doing it with Chelsea in the room. I think Chelsea is a fine young lady," he said. 
Towards the end of the debate, Clinton slammed Trump on comments he's made in the past about women. "This is a man who has called women pigs, slobs and dogs, and someone who has said pregnancy is an inconvenience to employers, who has said women don't deserve equal pay unless they do as good a job as men," she said. 
Trump had threatened to bring Gennifer Flowers to sit in the front row at the presidential debate on Monday night, after billionaire businessman Mark Cuban said he would attend to support Hillary Clinton. 
Former President Bill Clinton admitted to having an affair with Flowers while he was governor of Arkansas. 
Trump's campaign walked back that threat over the weekend, saying Flowers was not invited to the debate. But he has has brought up Bill Clinton's past history with women before.
Back in May at a rally in Eugene, Oregon, according to the Washington Post, Trump said, "Nobody in this country was worse than Bill Clinton with women. He was a disaster. He was disaster."
The next day, at a rally in Spokane, Washington, he brought it up again, according to CNN. "She's married to a man who got impeached for lying," Trump said during the rally. "He was impeached and he had to go through a whole big process and it wasn't easy. He was impeached for lying about what happened with a woman."
"Hillary was an enabler and she treated these women horribly. Just remember this," Trump continued. "And some of those women were destroyed, not by [Bill Clinton], but by the way Hillary Clinton treated them after it went down."
In 1999, nursing home administrator Juanita Broaddrick accused Clinton of raping her back in 1978 when he was running for governor of Arkansas, accusations she revived earlier this year. Kathleen Willey accused him of sexually assaulting her in 1993 while she was a volunteer at the White House. And Paula Jones, a former Arkansas state employee, sued him for sexual harassment. The case was eventually dropped in a $850,000 out-of-court settlement. 
Clinton admitted to having an affair with model Gennifer Flowers. But it was his affair with White House intern Monica Lewinsky that eventually brought him down. Clinton was impeached in 1998 for lying to a grand jury in that case. He was eventually aquitted on the charges. 
Trump has said in the past that he didn't think Bill Clinton should have cooperated with the Lewinsky investigation.
Back in 1998, Trump went on CNBC and said Clinton should have pleaded the Fifth Amendment, which allows U.S. citizens the right to not testify against themselves.  
"I'm not even sure that he shouldn't have just gone in and taken the Fifth Amendment and said, 'Look, I don't get along with this man, [independent prosecutor Kenneth] Starr. He's after me. He's a Republican. He's this, he's that,' and, you know, just taken the Fifth Amendment," he said, according to the Washington Post. "It's a terrible thing for a president to take the Fifth Amendment, but he probably should have done it. I don't think he could have done any worse than what's happened."
In that CNBC interview, Trump called Paula Jones "a loser." He was asked if he would consider running for political office and joked about his history with women, according to a transcript by the Washington Post:
TRUMP: Can you imagine how controversial that'd be? You think about him with the women. How about me with the women? Can you imagine ...
And in 2008, in an interview with CNN, Trump said he thought Clinton should never have been impeached for "something that was totally unimportant."