BREAKING: New video shot by Keith Lamont Scott's wife shows aftermath of fatal shooting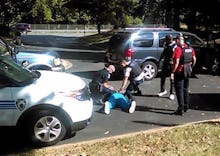 A new video recorded by Keith Lamont Scott's wife, Rakeyia Scott, has emerged, showing the scene that transpired before and after her husband was fatally shot by police in Charlotte, North Carolina, on Tuesday. 
Lawyers for the Scott family provided the footage to the New York Times, the paper reported. 
While the video does not answer the question of whether or not Scott was pointing a gun at officers when they discharged their weapons, Justin Bamberg, an attorney for the family, told the Times that it provides the public with "another vantage point" of the altercation.
Rakeyia Scott can be heard on the tape pleading with officers not to shoot her husband.
"He doesn't have a gun. He has a T.B.I. [Traumatic Brain Injury]," she says, according to a New York Times transcript of the dialogue in the video.
But officers can also be heard in the footage telling Scott to "drop the gun" multiple times.
Although the camera turns away from Scott at the moment shots were fired, at least four pops can be heard audibly in the background as his wife screams.
"He better not be fucking dead, he better not be fucking dead," Rakeyia Scott is heard saying. "He better live, he better live!" 
On Friday morning, before the tape was made public, Charlotte-Mecklenburg Police Chief Kerr Putney reiterated his belief that a separate police video of the altercation would be made public, but only "when we believe there is a compelling reason," Putney said, according to the New York Times.
Sept. 23, 2016, 1:58 p.m.: This story has been updated.