Fall album releases: Everything we know about new Kanye West, Lady Gaga, Kid Cudi and Beck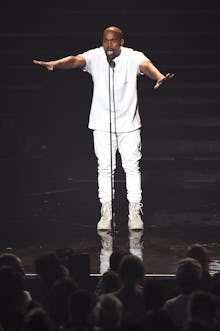 The absolute deluge of new music that's come crashing down in 2016 is not set to let up anytime soon. A steady stream of new albums from some of music's brightest will continue to arrive throughout the fall, adding to a range of transformative releases, including Beyoncé's Lemonade, Kanye West's The Life of Pablo, Rihanna's Anti and Frank Ocean's Blonde. 
It seems fans of many genres will get a satisfying new release through the rest of 2016. The fall is slated to present a slew of new projects along with a number of potential surprise drops and joint mix tapes. 
Here's what we're looking forward to:
Bon Iver
Bon Iver is continuing to transcend the genres of hip-hop and indie rock into lo-fi, synthesized melodies. His next album — 22, a Million — is set for release Sept. 30, and will likely build upon the broken sonic stylings of "10 Death Breast" and "22 (OVER S??N)," his early previews. "I feel both blessed and cursed by the fact that I can do whatever I want at this point," Bon Iver told the New York Times in a rare interview published Wednesday. "I have more recognition than I had ever wanted to deal with."
Lady Gaga
Lady Gaga returned to pop music's limelight earlier this month with the release of "Perfect Illusion," a rebellious pop-rock anthem with an old-school feel. With each album, Gaga continues to reinvent herself, her sound and her style — and fans should expect no less from Joanne. The singer's forthcoming album arrives Oct. 21. Expect her new collaborators, such as Kevin Parker of Tame Impala and Father John Misty, to help mold the project into an eclectic variety of ballads and rock jams. 
Kid Cudi
It has been years since rapper and former Kanye West prodigy Kid Cudi dropped an album that received more praise than critique — but the man on the moon is hoping to break that track record with his next drop. Passion, Pain & Demon Slayin', the long-awaited (and pushed-back) upcoming album from Cudi, may arrive by the end of September, according to tweets from the rapper. The rapper has also been using Twitter to simultaneously trash Drake and former mentor West for having "30 people write songs for them" and not supporting him properly.
Beck
Juding by its first two singles, Beck's upcoming 13th recorded album will likely pack much more of a punch than his slower, more somber 2014 album Morning Phase. The artist's next project has an anticipated release date of Oct. 21, though a title still hasn't been announced. "Wow," the first music video and track released off the next album, is much more of an alternative club bop, with a heavy beat and euphoric visuals. 
Kanye West
Despite already releasing The Life of Pablo in February, the always-controversial Kanye West has already promised more for 2016. West previously said his hotly anticipated Turbo Grafx 16 would come in summer, teasing that release date before TLOP actually reached its present, updated form. There's also a possible joint mixtape he and Drake have said they're working on, and a possible collaboration with Chance the Rapper — though there's no word just yet on when either might drop. 
Banks
Banks' ethereal vocals made waves when the artist debuted Goddess in 2014. The singer is now planning her return with Altar, set for release on Sept. 30. Rather than continuing the dance vibes she employed on her last album, Banks seems to be stripping her production to its very skeleton. "To the Hilt," the first track off her second studio album, is an emotional piano ballad with haunting vocals that focus on a failed relationship. It's a sharp contrast to her previous work, but no less beautiful.