Ryan Murphy's working on a secret 'American Horror Story' season, because he has the time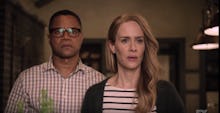 As if Ryan Murphy didn't have enough on his plate — between a new season of American Horror Story, American Crime Story season two and the new series Feud — he's apparently been working on a "secret season" of American Horror Story.  
Speaking with Entertainment Weekly, Murphy said he and one writer have been working together on a new AHS installment — one that's different from the show's sixth season, which was shrouded in secrecy up until the premiere. 
"It's my secret season," he told EW. "I've been working with a writer on a season that only he and I know. It's like a two-year project that we'll continue to work on the sly and not tell anybody." 
Murphy added the mystery installment doesn't have a release date (and technically, AHS hasn't been renewed yet for a seventh season). 
"I don't know when it will [air], but it's also an experiment," Murphy explained. "It's a different way of doing it. It's one person writing all episodes. I don't know if it's going to work but it's like, well, let's try that. We might get them done and shoot them on the sly and drop it."  
Considering the first season of The People v. O.J. Simpson: American Crime Story, dominated the Emmys Sunday, FX will likely let him do whatever he wants.