Is McDonalds the secret to better breakfast for kids?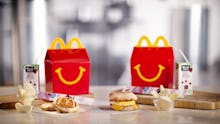 Start 'em young, start 'em early. 
On Monday, McDonalds will begin serving breakfast Happy Meals to young customers in 73 locations in the Tulsa, Oklahoma, area. If America bites on this concept, the kid-friendly breakfasts will be rolled out to the rest of the U.S. in 2017, Pam Williams, McDonalds' marketing director, said in a phone interview. 
Kids can choose from either two McGriddles or an egg and cheese McMuffin that's served without Canadian bacon. They also get to choose two sides — apple slices, yogurt or kids' fries, at lunch or dinnertime. Like the rest of the McDonalds breakfast menu, breakfast Happy Meals will be available all day. 
Unlike the regular breakfast menu, the Happy Meal brekkies will feature toys. Williams confirmed the toys will be the same as the ones in regular Happy Meals. Sorry to burst your bubble, toy aficionados. 
Williams declined to discuss specific nutritional content. McDonalds later confirmed over email that two McGriddles are 240 calories and the egg and cheese McMuffin is 260 calories. McDonalds did not confirm how much fat is in either item. A Happy Meal with chicken McNuggets, apple slices, kids fries and apple juice comes to 390 calories, according to the company's nutrition calculator.
Williams confirmed the McGriddles and egg and cheese McMuffins are totally new products and recipes, so curious consumers can't look at the McDonalds site for an estimation of the calories. Hopefully the meals are more nutritionally sound than other fast food breakfast options — say, a donut.
Prices will vary by restaurant, Williams said. The two McGriddles meal (with two sides and a drink) will cost $3.79, and the McMuffin meal (with two sides and a drink) will cost $3.99 on average. 
The price isn't too shabby when you think about what pint-size Americans stand to gain from some extra nutrition in the morning. One study from the University of Iowa found that providing children from low-income families with free or subsidized breakfast was linked to better academic performances. 
We don't yet know whether these breakfasts will actually make kids, parents and hungry bellies happier, or whether they'll just pack on unnecessary calories.