Ted Cruz sacrifices political brand as a principled conservative to endorse Donald Trump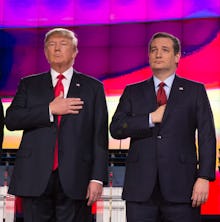 Texas Sen. Ted Cruz, the conservative purist who took heat this summer when he refused to endorse Donald Trump as the Republican presidential nominee, took the plunge and endorsed Trump on Friday — a move that could hurt his brand as a principled conservative.
"After many months of careful consideration, of prayer and searching my own conscience, I have decided that on Election Day, I will vote for the Republican nominee, Donald Trump," Cruz wrote in a Facebook post.
The senator cited Trump's stances on Supreme Court nominations, health care, energy, immigration, national security and "internet freedom" in explaining his newfound support for his party's standard-bearer.
Cruz earned plaudits from the #NeverTrump crowd after he took a stand on the stage of the Republican National Convention in Cleveland, famously telling supporters to "vote your conscience."
The stunt got him booed off the stage and led his popularity among the Republican base to plummet.
But even Cruz detractors could understand why he wasn't keen on backing the GOP nominee, after Trump falsely insinuated Cruz's father may have been part of the assassination of President John F. Kennedy, as well as Trump's mean-spirited attacks on Cruz's wife.
At the time, Cruz had called Trump everything from a "pathological liar" to "utterly amoral" and "the biggest narcissist in America."
Similarly, anti-Trump Republicans said the stand would give him credibility among conservatives in 2020, assuming Trump were to lose the general election in November.
Those same #NeverTrump Republicans now say Cruz has nothing to gain from backing down this late in the game.
Instead, they say his late-game endorsement following Trump's rebound in the polls makes Cruz look like an opportunist.
It also provides fodder for future potential Republican presidential hopefuls, who could either primary Trump if he wins in November or who will be running in an open primary if Trump loses.
Trump, for his part, relished in attacking Cruz on the trail.
He coined the moniker "Lyin' Ted" and even attempted to launch a Birther crusade against Cruz — who was born in Canada but is a U.S. citizen thanks to his mother's U.S. citizenship.
What a difference a few months — and a few poll results — can make.