What is Trump's business? Here are the more ridiculous Donald Trump Organization products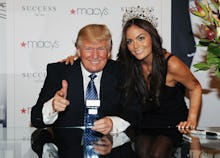 There is nothing Donald Trump likes selling more than Donald Trump.
There's Trump water, Trump ties, Trump steaks, Trump wine, Trump vodka, Trump perfume, the list goes on.
The New York City real estate mogul whose presidential campaign slogan is "Make America Great Again" has taken heat over the years over how many of his products are made overseas, including China.
The Democratic National Committee aired a Funny or Die video at the convention this year, mocking Trump's overseas manufacturing.
And in a 2012 interview on The Late Show with David Letterman, the late-night talk show host peppered Trump with questions about where some of his products are made. Clinton's campaign even used part of the interview in a political ad.
Trump has defended his overseas manufacturing by saying many American companies "don't make a lot of these products. They don't even make them here anymore."
There's all kinds of Trump campaign merchandise available out there. But if you're looking for something a little classier, here are a few of the things you can buy from the famous Trump brand.
Donald Trump merchandise lets you dress like Trump! 
The Donald J. Trump Collection has you covered with everything you need to project an image of wealth and success. It features business suits, shirts, ties, cufflinks, wallets and even stylish eyewear.
Donald Trump merchandise lets you smell like Trump! 
Just take your pick between Success,  which "captures the spirit of the driven man" and has an "inspiring blend of fresh juniper and iced red currant, brushed with hints of coriander. Or Empire, which has "Bold notes of peppermint, spicy chai and a hint of apple [that] demand attention."
Donald Trump merchandise lets you live like Trump! 
Not everything in Trump Home is gold-plated like Trump's famous penthouse in New York or his lavish Mar-a-Lago estate in Palm Beach. The are five collections: furniture, bedding, lighting, mirrors and chandeliers. "Now the public can not only wear my clothes, they can sit on my couch," Trump said in a statement when the line was launched in 2006.
Donald Trump merchandise lets you learn from Trump! 
Donald Trump has written numerous books. "Learn how to think like a billionaire," the Trump Organization website says. "It's as simple as turning the page." You can buy his 1987 bestseller, Trump: The Art of the Deal, or pick up his latest book, Crippled America: How to Make America Great Again, published last fall.
Donald Trump merchandise lets you eat and drink like Trump!
The Trumps sell, or sold, several food and beverage products.
The Trump Winery is 1,300-acre estate in Virginia and points out on its website that it "lies just a few miles from James Monroe's Highland and Thomas Jefferson's Monticello," two former U.S. presidents. The winery is run by Trump's son, Eric, and features a tasting room. Trump wine comes in sparkling, white, red and rose.
Trump also has his own line of natural spring water that he serves in all of his hotels, restaurants and golf courses.
Trump vodka was supposed to be huge when it was launched in 2006, but sales were weak and it went out of business in 2011. And Trump Steaks, which launched in 2007, doesn't appear to be for public sale anymore. However, it's apparently still served at Trump properties.
Mic has ongoing presidential coverage. Please follow our main election hub as well as coverage of Donald Trump and Hillary Clinton.