Bomb squad called over box of cookies with Arabic text, Islamaphobia alive and well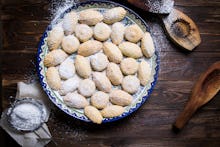 There are certain things that pair really well with cookies — like milk, for example — but Islamaphobia is not one of them. 
On Monday, police were called to a gas station near East Stroudsburg, Pennsylvania, when a customer panicked at the sight of a box with Arabic lettering on it, WNEP-TV reported. The supposedly suspicious box turned out to just be a box of Halwani Bros Maamoul Date Filled Cookies — something easily purchased on Amazon. 
While the cookie box did feature some Arabic script, it also featured plenty of words written in English, according to an image on Twitter. The label clearly states in English that the package contains "date filled cookies." Still, the call resulted in the arrival of three police cars and the bomb squad unit to the gas station. The gas station and a nearby nursery were also shut down. 
The only "bombs" the box contained were sugar bombs. Authorities told WNEP-TV that no charges would be filed — because really, the only disturbing thing about the cookies is maybe the price tag. (According to Amazon, a box of 12 cookies costs $10.99, which works out to nearly $1 per cookie.)
While the incident took place just days after the explosion in New York City, leaving nearby areas on high alert, calling in a bomb squad over Arabic script is an Islamaphobic act. It's similar to having people kicked off of a plane for receiving a text in Arabic, a language that is spoken by over a million Americans.
_____________________________________________
Read more: 
While a number of popular foods from Arab regions, like hummus, kebabs, shawarma and fattoush have become incredibly popular in the U.S., as has halal food (or food prepared in accordance to Islamic law), maamoul are not as commonly known. 
The shortbread-like cookies are a staple of Near East cultures, and are often eaten every day, Food52 noted. They are consumed most often during Christian, Jewish and Islamic holidays, making them a "cultural neutralizer," says Food52 — or, rather, the furthest thing from a bomb.