Donald Trump pans Hillary Clinton on Twitter for postponing Charlotte trip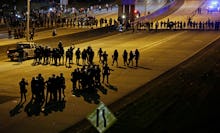 Republican Donald Trump took aim at Democratic presidential rival Hillary Clinton on Twitter late Friday for postponing her planned trip to Charlotte, North Carolina, where the streets remain filled with demonstrations against the fatal police shooting of Keith Lamont Scott.
Team Clinton announced shortly after 9:30 p.m. on Friday that after "discussion with community leaders," the candidate would push back her journey from this coming Sunday to the following weekend so as not to cause any disruptions.
In the meantime, Communications Director Jennifer Palmieri said in a press statement that Clinton's "prayers are with the people of Charlotte during these difficult days."
Trump, who himself reportedly scratched plans to visit Charlotte, pounced in a tweet which suggested Clinton was going to North Carolina in the wake of Scott's controversial death to "grandstand," not lend a hand amidst the unrest.
As the News & Observer noted, a Sunday trip to North Carolina, not Saturday, as Trump tweeted, would have come just before Clinton and Trump are to face off at Hofstra University in New York in the first of three presidential debates.
Demonstrations continued Friday after Tuesday's police shooting of Scott as officers hunted for a different man near his apartment building.
The latest protests appeared to be remaining more peaceful than those earlier in the week, even with the imposition of a curfew.
Law enforcement authorities maintain Scott failed to comply with their orders to drop a gun; Scott's man's family says he was cooperating and that a newly released video made by Scott's wife at the time of the shooting provides a new "vantage point" to the incident.
Charlotte Mayor Jennifer Roberts, who asked the candidates to stand down on any visits, is among those pushing for the public release of police video of the shooting, which the Scott family has viewed privately.
Clinton backed the idea of releasing the video in a signed Friday tweet:
Trump has also tweeted hopes for peace in Charlotte — while additionally praising the state's Republican governor.
Thanks to changing demographics and a growing number of millennials enrolling as independents and Democrats rather than as Republicans, formerly deep red North Carolina is in play in the November presidential vote.
The latest RealClearPolitics polling averages show Trump with an advantage of less than two percentage points in the "Tar Heel State," which 2012 GOP nominee Mitt Romney carried against President Barack Obama.