Five killed by shooter at Burlington, Washington's Cascade Mall: Reports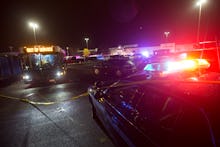 A rifle-armed shooter opened fire in a shopping center in Washington state on Friday night, multiple news outlets reported, with indications that at least five people have been killed.
The state police told KIRO-TV they were on the hunt for a gunman after the rampage at Cascade Mall in Burlington, about 65 miles north of Seattle.
Public Information Officer Sgt. Mark Francis, whose tweets were cited by local and national news outlets, initially said four people had died in the mall.
As the situation developed, Francis said he held out hope more survivors would be found as officers entered the shopping center.
At least one suspect in the shootings reportedly remained at large, possibly heading to nearby highway I-5 on foot, as of 11:30 p.m. Eastern, per the Associated Press.
Francis later tweeted a photo of the suspect, describing him as armed with a rifle and asking for the public's help in spotting him:
Later news reports said three women had been killed and another person was in critical condition:
Q13-TV, a Fox affiliate, said reports of gunfire centering on the mall's Macy's store began coming in at around 7:30 p.m. local time and "workers and visitors [were] asked to shelter in place while the shooter was at the scene."
Shoppers ran in fear after hearing a volley of gunfire, a witness told Alex Rozier, a reporter for NBC affiliate KING 5-TV:
Authorities asked residents to stay indoors and urged drivers to avoid the area in the aftermath of the shooting as the manhunt continued.
Francis tweeted that survivors of the Cascade Mall shooting were being evacuated by bus to a nearby church.
Later, Washington Gov. Jay Inslee tweeted his condolences.
The mall's website advertises "Wild West Express Train Rides" and "24-hour Professional Security Services."
This is a breaking news story. Check back for updates.
Sept. 24, 2016, 7:49 a.m.: This story has been updated.