President Obama vetoes bill that would allow families of 9/11 victims to sue Saudi Arabia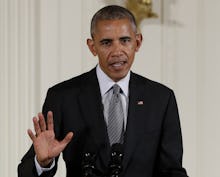 On Friday, President Barack Obama vetoed a bill that would allow the families of the victims of the Sept. 11, 2001 terrorist attacks to sue the government of Saudi Arabia.
The legislation, according to NPR, would permit lawsuits against the Saudi government for their alleged assistance to some of the 19 hijackers responsible for the attacks, 15 of whom were Saudi nationals.
In a three-page statement, Obama listed his reasons for vetoing the bill, which he claimed would be "detrimental to U.S. interests" if signed into law. 
"I recognize that there is nothing that could ever erase the grief the 9/11 families have endured," Obama wrote, according to The Hill. "Enacting [the Justice Against Sponsors of Terrorism Act] into law, however would neither protect Americans from terrorist attacks nor improve the effectiveness of our response to such attacks."
Allowing private litigators to sue foreign governments, he reasoned, would set a precedent for pursuing lawsuits abroad, destroying protections that have long been in place and putting U.S. officials, service members and businesses at risk, according to NPR.
Current law would allow the families of victims to sue countries designated as state sponsors of terror, The Hill notes, but JASTA would expand that allowance to include countries like Saudi Arabia, who aren't labeled as such.
Obama's decision to veto sets up a near-certain showdown with the House, as congressional leaders are planning to override his veto decision with a vote in the next few days. According to the Washington Post, leaders say are "confident" they have the numbers to reverse the president's decision. 
If a two-thirds vote passes in both chambers of Congress, it would be the first override of a presidential veto to occur during Obama's time in office.
Republican presidential candidate Donald Trump was quick to capitalize on the veto, calling it a "low point" of Obama's presidency.