Sky Ferreira directed her own unretouched 'Playboy' cover — here's what it looks like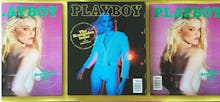 Singer and songwriter Sky Ferreira pulled double duty for the October issue of Playboy. Not only was she the magazine's cover model, she also directed the shoot and had creative control over her image. 
"I am the first bunny ever to be a creative collaborator and creative/art direct," Ferreira wrote on Instagram. "I produced and directed all of the content." 
According to Ferreira, her friend Sandy Kim shot the photographs, which are unedited and unretouched.  Actor Bruce Dern conducted the magazine interview with Ferreira, ahead of her upcoming album Masochist, following 2013's Night Time, My Time. 
In the interview, Ferreira speaks about the entertainment industry's attempts to control her and her struggle for autonomy. 
"Even when I was 15 years old, going by myself to meetings with Sony or some other place, they'd be like, 'Little girl, you don't know what you're talking about,'" Ferreira said. "But they kept wanting to get my music from me. There's this entire 'shut up and be pretty' mentality." 
Playboy announced in October 2015 that it would no longer feature nude models and that it would undergo an image makeover. Kristy Garrett was the magazine's final nude centerfold in December, and their first nudity-free issue hit stands in February, featuring Cory Jones. 
Several people showed their support for Ferreira on Twitter, including rappers Theophilus London and Rejjie Snow. 
When a fan tweeted her to say that Ferreira had "snatched [their] weave," — a slang term meaning she hit it out of the park — Ferreira replied: "My true passion."