President Obama opens black Smithsonian museum to widespread acclaim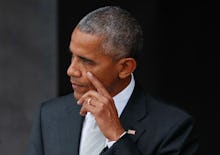 On Saturday, President Barack Obama inaugurated the Smithsonian's newest institution, the National Museum of African American History and Culture, in a speech before a crowd of 7,000 official guests from Oprah Winfrey and Congressman John Lewis to former President George W. Bush, the Washington Post reported.
"I, too, am America," Obama said, quoting famed black poet Langston Hughes. "... African American history is not somehow separate than the American story. It is not the underside of the American story. It is central to the American story."
"It helps us better understand the lives, yes, of the president, but also the slave, the industrialist but also the porter, the keeper of the status quo but also the activist seeking to overthrow that status quo, the teacher or the cook alongside the statesmen," he added. "By knowing this other story we better understand ourselves and each other."
Rep. Lewis told the crowd that the NMAAHC, "is more than a building, it is a dream come true."
As the Associated Press noted, the museum is literally a century in the making; plans for such a museum were first drawn up in 1915 by African-American civil war veterans. The project was approved, but never funded in the 20th century.
"So many people have dreamed about this, fought for this and wanted this to happen," U.S. Circuit Judge Robert L. Wilkins told the crowd. "It's going to be a testament to their work and a testament to so many of our ancestors that this museum will open on the Mall."
The museum boasts a collection of over 36,000 artifacts and 85,000 square feet of exhibition space. 
Passes for the first-day event were "long gone" and the next day passes will not be available until December or January, according to Smithsonian. Collections on display from opening are many and varied, including artifacts like the hat Michael Jackson wore during his 1984 Victory Tour, portraits of black military veterans dating back to the Civil War, Civil Rights-era pins and signs, a ticket stub for a bus ticket from D.C. to Martin Luther King, Jr.'s historic Selma-Montgomery march, and an FBI wanted poster for radical activist Angela Davis.