Presidential poll results 2016: Here's where the candidates stand ahead of Monday's debate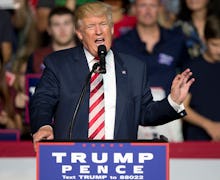 The first presidential debate between Republican nominee Donald Trump and his Democratic counterpart, Hillary Clinton, is now just days away on Sept. 26.
Clinton's campaign has long touted that in a debate, her extensive resume and experience with world affairs as President Barack Obama's former secretary of state will make it easy to swab the floors with Trump, whose own resume leaves much to be desired. But progressives have worried the real-estate billionaire will benefit from lowered expectations.
The Clinton campaign had better hope they are right. Trump has closed to an uncomfortable margin in the polls and her campaign badly needs a good night and some breathing room.
The average of polls kept by Real Clear Politics, for example, shows Clinton's lead has narrowed to an average of 3%, though with a clearer projected lead in the electoral college, where the Clinton/Kaine campaign holds 200 likely electoral votes to Trump/Pence's 164.
FiveThirtyEight, the site run by pollster Nate Silver, shows that Trump has progressed to roughly 39.5% chance of victory in their polls-only forecast and 40.5% in their polls-plus model incorporating historical and economic data. While that's a significant improvement from Silver's late-June forecast of roughly 20%, it still leaves Clinton the heavy favorite, even if it does not leave her as the presumptive victor in November.
On Saturday, Silver wrote that, while just a few days ago Clinton seemed in more dire straights, the past week has seen mixed results — with her campaign pulling 5-6 percentage point leads in several national polls but falling far behind Trump in swing states like Iowa and Ohio, with a tie in Maine.
In other words, Clinton is still in the lead, though the match has narrowed to the point where she can't really afford any major, public setbacks, perhaps the kind that could happen on some type of stage directly next to Trump. But unlike the Republican primary debates where Trump benefited from his fellow candidates' infighting, a built-in base of conservative supporters, and tactics like bullying his opponents worked to his advantage, Trump will now be facing a singular and undoubtedly well-prepared enemy in front of an audience not from his own party.
While this will make for a tense night on Monday, there's other reasons for Democrats not to panic just yet: the Trump campaign is still lagging far behind Clinton's in terms of running actual ground operations for election day, meaning even obtaining parity in pre-election polls may result in an ugly surprise when Nov. 8 rolls around.