Charlotte police department releases partial video of the death of Keith L. Scott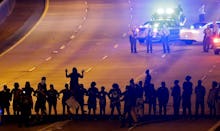 Authorities on Saturday released partial video of the Charlotte-Mecklenburg Police Department shooting of Keith L. Scott, a black father whose death during a police search for an unrelated suspect on Sept. 20 spurred days of both peaceful protests and more violent disturbances as well as a subsequent state of emergency in the Charlotte metro area.
Police officers say they shot Scott because he was holding a firearm and "posed an imminent deadly threat to the officers, who subsequently fired their weapon striking the subject," while family members and neighbors initially contested that explanation, saying he was not armed at the time of the shooting and that he was only holding a book.
A short body-camera video released online shows officers surrounding Scott's vehicle, as well as a brief shot of Scott standing beside it, before the officer in question circles around a vehicle and re-emerges to see Scott laying on the ground, wounded and dying. The video does not appear to immediately resolve the issue of whether Scott was holding a gun or brandishing it in a threatening manner, as neither a clear view of the shooting or Scott's hands is shown.
Warning: Graphic content:
However, a second dash-cam video appeared to capture Scott backing away from police with his hands down at the time law enforcement opened fire, though it similarly did not provide a clear view of whether he was holding a firearm.
Police also released photos of the alleged gun and holster found at the scene of the shooting.
According to CMPD Chief Kerr Putney, while the videos do not conclusively demonstrate Scott had a gun in his hand at the time of the shooting, other evidence from the scene supports' the authorities' accounts and no officers will be charged. In a press conference on Saturday before the release of the videos, he said officers originally noticed Scott due to the smell of marijuana.
The officer who shot Scott, Brently Vinson, is also a black man, reported the BBC.
Local organizers say they asked for Charlotte authorities to release the full tape, rather than portions of it, and described the decision to keep the remainder of the video under wraps as harmful.
A prior video released by Scott's wife showed the scene preceding the shooting, including officers in plainclothes ordering him to "drop the gun," but did not capture the actual killing or clearly establish what was in his hands at the time of his death.
Sept. 24, 2016, 7:01 p.m. Eastern: This post has been updated.