With Rihanna's aid, Global Citizen calls out world leaders for weak efforts to end poverty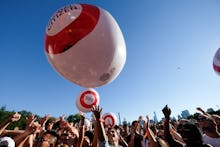 NEW YORK — Rihanna has likely never taken more people to task with a single song than she did with "Bitch Betta Have My Money" Saturday at the 2016 Global Citizen Festival. 
Queen Ri performed her trap anthem to a crowd of 60,000 at the ticketed charity event, following performances by Kendrick Lamar, Metallica and Major Lazer, as well as lengthy discussions of global humanitarian issues. Leaders of nations, CEOs and celebrities took the stage between musical acts to rep causes covering a wide swath of issues from women's education to sanitation, promising to support Global Citizen Foundation's goal to end extreme poverty by 2030.
A slew of national leaders put their money where their mouths are: The Netherlands committed $350 million over three years to provide and improve sanitation services for 14.9 million people. Canada committed $20 million and Denmark $11 million to the Education Cannot Wait fund, which supports education for children in emergency and conflict areas. But the five-hour-long festival also ran down the names of several countries who have yet to follow through on their commitments.
"There are people all over the globe that need help," Rihanna, the newly named global ambassador for the Global Partnership for Education, called out to the crowd. The leaders of the world better deliver RiRi's money.
The fifth annual Global Citizen Festival was one of the most confrontational in recent memory. Every year, attendees earn tickets to the event by performing a series of actions. These include calling, emailing and tweeting at heads of state to get them to support global initiatives; attending rallies; signing petitions; and more. This year, organizers and talent pulled no punches, calling out countries that have not responded to the demands made of them.
France, for one, found itself in the crosshairs on the lead-up. Thursday, Rihanna tweeted at French President Francois Hollande, asking him to act on the Education Cannot Wait bill.
To which the French leader responded:
Rihanna promised again on stage to continue doing her part in bridging the world's divides.
"I always say our work is like creating an echo chamber," Michael Sheldrick, global advocacy director at Global Citizen, said in an interview on-site. "We identify a leader that we want to be a hero and we put them in the center." 
He mentioned a video actress and festival host Chelsea Handler recorded, which called out Italian Prime Minister Matteo Renzi for not responding to 13,000 of Global Citizen festival goers' phone calls and tweets. They were urging him to dedicate part of next year's G7 Summit, which will be hosted in Italy, to lifting 500 million people out of hunger.
She repeated this call on stage Saturday night.
"Basically the leader just gets bombarded and, we hope, does the right thing," Sheldrick said.
The Global Citizen strategy has its downsides, of course. Save for generating some bad PR, there's little it can do to actually force a given leader to act. It also creates the perfect stage for celebrities like Neil Patrick Harris to offer groan-worthy puns on global crises, as he did when discussing unequal access to sanitation. ("A $100-million commitment to toilets! Aw, shit!")
Other celebrities had more to offer. During a seemingly impromptu duet with Coldplay's Chris Martin, Pearl Jam's Eddie Vedder addressed the crowd about nation being swept by a wave of "bigotry, racism, sexism, homophobia." 
"These are antiquated ideals that are going away, and that's why I think we're seeing this one last rise," he said in the middle of a cover performance of Patti Smith's "People Have the Power." "There's no longer room for them in this modern world in this modern world of communication, of acceptance and understanding of others. We can rise to the challenge, and these are challenges we can meet if we work with organizations like [Global Citizen]. Use your voice. Use your votes and together we can use our power for good."
"The work begins tonight," Sheldrick said. "Everyone leaves here, everyone pats themselves on the back, goes home and everything goes back to normal. But now is when we need people to take action the most. Leaders that don't feel the pressure, will forget. They will become complacent. It's not always rosey. So my message is what happens in the lead up is important, but then we need to hold them accountable. Do not stop tweeting, do not emailing, do not stop calling."
Learn more about Global Citizen and its goals here and watch Rihanna's performance of "FourFiveSeconds" below.
Sept. 25, 2016, 3:13 p.m.: This story has been updated.