José Fernández, star pitcher of the Miami Marlins, killed in boating accident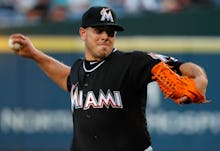 José Fernández, lauded pitcher for the Miami Marlins and star of Major League Baseball, died in a boating accident off the coast of Miami Beach early Sunday morning, Florida authorities said. He was 24 years old.
The ace pitcher and two companions were found dead by Coast Guard personnel at around 3:15 a.m., shortly after the wreckage of their 32-foot boat was discovered, Fish and Wildlife Commission public information officer Lorenzo Veloz told CNN.
The identities of the two men whose bodies were found alongside Fernández are being withheld from the media until their families have been notified.
In a statement released on Sunday, the Miami Marlins acknowledged the accident and offered condolences to Fernández's family.
"The Miami Marlins organization is devastated by the tragic loss of José Fernández. Our thoughts and prayers are with his family at this very difficult time."
Just five days before his death, Fernández posted a picture of his girlfriend, with whom he was expecting a child, on Instagram, alongside the caption: "I'm so glad you came into my life. I'm ready for where this journey is gonna take us together."
Fans, journalists and other athletes joined together in an outpouring of support for Fernández.
A Marlins game scheduled against the Atlanta Braves was cancelled on Sunday in light of the news.