Gennifer Flowers was not actually invited to debate by Donald Trump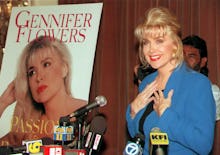 Turns out that Gennifer Flowers, the woman Bill Clinton admitted to having an extramarital affair with decades prior in a 1990s deposition, will not be attending the upcoming presidential debates at the behest of Republican presidential nominee Donald Trump after all.
The GOP real-estate billionaire originally invited Flowers to the debate after rival fellow billionaire and reality show host Mark Cuban taunted Trump on his front-row seats to the debate at the behest of Democratic nominee Hillary Clinton's campaign.
Flowers subsequently accepted the invite in her own tweet.
If the intent was to troll Trump into an overreaction, it clearly worked — the Republican candidate is trying hard to fight a (well-justified) public perception of himself as crude and sexist, or at least double-talk his way around it, and inviting his opponent's husband's ex-mistress to the debate was clearly kind of inherently misogynistic.
But on Sunday, Trump's campaign as well as his vice presidential nominee, Indiana Gov. Mike Pence, confirmed no such invitation was ever actually issued, reported CNN.
On CNN's State of the Union, Trump campaign manager Kellyanne Conway confirmed to host Jake Tapper "We have not invited her formally, and we do not expect her to be there as a guest of the Trump campaign."  Over on Fox News Sunday, Pence said Trump was merely "mocking" Clinton for inviting Cuban (as if to show Trump was not even mad in the first place).
Thankfully, now that team Trump has backed down, the U.S. public can rest assured the upcoming debate will be a lively and substantive policy discussion, rather than a war of egos. Just kidding. Grab the popcorn, everyone.