UN working group compares police shootings of black people to lynchings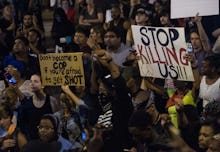 A United Nations working group has a damning comparison that United States law enforcement might want to note. In a recent report, the U.N. Working Group of Experts on People of African Descent likened police brutality to racially motivated hate crimes of the 19th and 20th centuries.
"Contemporary police killings and the trauma that they create are reminiscent of the past racial terror of lynching," the report read, according to Reuters. 
As the Washington Post reported, the Equal Justice Initiative estimates that 3,959 African-Americans across the south were killed in "racial terror lynchings" between 1877 and 1950. By comparison, more than 170 black people have died in police shootings in 2016 so far. 
The group's report is up for debate by the U.N. Human Rights Council Monday, and comes after a week in which back-to-back police shootings proved fatal for two black men and sparked widespread protest. On Sept. 20, authorities in Charlotte, North Carolina, shot and killed Keith Lamont Scott while pursuing an unrelated suspect. On Sept. 16, police responding to a 911 call in Tulsa, Oklahoma, fatally shot Terence Crutcher after his SUV stalled in the middle of a road. 
According to Reuters, the working group's report called for the institution of a tracking system to keep tabs on both the number of police shootings and incidents of excessive force. It also emphasized the importance of "acts of reconciliation" in building trust between black people and law enforcement, along with a genuine acknowledgment of the lingering effects of slavery.
"The legacy of colonial history, enslavement, racial subordination and segregation, racial terrorism and racial inequality in the United States remains a serious challenge, as there has been no real commitment to reparations and to truth and reconciliation for people of African descent," the report said, according to Reuters. "Impunity for State violence has resulted in the current human rights crisis and must be addressed as a matter of urgency."