Heartbreaking photos show the aftermath of barrage of Russian-backed airstrikes in Aleppo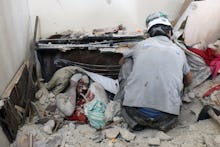 Editor's Note: This article contains images that some readers may find disturbing.
New images out of Aleppo, Syria, are revealing the horrifying war zone that so many Syrians are forced to face on a daily basis. Over the weekend, the city was hit with about 200 airstrikes, killing more than 100 people, including children, CNN reported. 
A haunting photo of a father and son, buried in rubble, is just one of many images going viral on social media, showing the very real human impact of Syria's years-long civil war.
According to CNN, the father and son in the photo, along with another child, were killed when an airstrike hit their home in Qaterji, Syria Friday morning. The mother and daughter were the only members of the family to survive. 
The barrage of bombing was done by forces supporting the Syrian government, backed by Russia, according to the BBC. Speaking at a United Nations Security Council meeting, U.S. Ambassador Samantha Power called the Russian-sponsored attacks "barbarism" and accused the nation of only perpetuating the war. "Instead of pursuing peace, Russia and Assad make war." 
"Instead of helping get lifesaving aid to civilians, Russia and Assad are bombing the humanitarian convoys, hospitals and first responders who are trying desperately to keep people alive," Power said.
Many began using the hashtag #HolocaustAleppo on Twitter to share images and videos of the aftermath of the bombings.
The Syria Civilian Defense, also known as the White Helmets, also shared harrowing video of adults and children being pulled from the rubble.
"The Assad regime and with direct participation of its ally Russia and Iranian militias has escalated its criminal and vicious attack on our people in Aleppo employing a scorched earth policy to destroy the city and uproot its people," a statement on the bombings and signed by 30 rebel groups read, the BBC reported. 
In addition to decimating neighborhoods, the airstrikes destroyed the headquarters and cars of rescue workers, the New York Times reported. 
Since 2011, more than 470,000 people have been killed in the Syrian conflict, according to PBS.
"What Russia is sponsoring and doing is not counter-terrorism, it is barbarism," Ambassador Power said of the weekend's ceaseless bombings.