Trump and Clinton tied in Colorado and Pennsylvania in latest poll before debate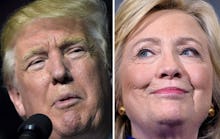 Just hours before Donald Trump and Hillary Clinton hit the stage for the first presidential debate, the candidates appear to be in a statistical tie in the two very important swing states of Colorado and Pennsylvania, according to the latest CNN/ORC poll. 
Inside the Numbers:
Trump is holding 42% to Clinton's 41% in Colorado among likely voters. The poll has a 3.5 margin of error, which means the Trump and Clinton are in a virtual dead heat. Libertarian Gary Johnson is at 13%, with Green Party pick Jill Stein polling at just 3%, according to the poll.
When Johnson and Stein are taken out of the polls, however, Clinton leads Trump in both states: 50% to 47% in Pennsylvania and 49% to 47% in Colorado, according to the CNN/ORC poll.
Clinton has the slight edge in Pennsylvania, polling at 45% over Trump's 44%. Clinton is leading among white college-educated voters — 11 points in Pennsylvania and 16 points in Colorado. 
Nationally, the latest Washington Post/ABC poll has Clinton leading Trump by just two percentage points. 
While the election appears to be close, Nate Silver's FiveThirtyEight blog indicates that Trump has just a 42.2% chance of winning the presidency, compared to Clinton's 57.8%.