President Obama to host Leonardo DeCaprio, 'Stranger Things' kids at the SXSL festival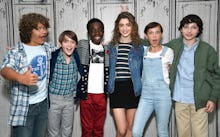 The summer festival season doesn't have to end in September if the Obamas don't want it to. The White House announced the lineup for its first South by South Lawn music, film and interactive festival on Sunday, along with some special guests, including the young stars of the science-fiction hit show Stranger Things and the Oscar-winning Leonardo DiCaprio. 
Millie Bobby Brown (Elle), Caleb McLaughlin (Lucas), Finn Wolfhard (Mike) and Gaten Matarazzo (Dustin) will appear alongside creators Matt and Ross Duffer during the student film portion of the White House festival, where students will premiere films based around the theme: "The World I Want to Live In." DiCaprio will premiere his new climate documentary, Before the Flood, and speak with President Obama and climate scientist Dr. Katharine Hayhoe on "the importance of protecting the one planet we've got for future generations," the White House wrote in its announcement.
The festival is inspired by the president's trip to this year's South by Southwest festival, where he became the first sitting president to keynote the annual event.
"In Austin, [President Obama] called on creative thinkers and entrepreneurs from across the country to help tackle our toughest challenges," the White House wrote. "On Monday, October 3, we're celebrating that spirit of innovation at South by South Lawn, a White House festival of ideas, art, and action."
Several interactive exhibits will allow attendees experience a virtual reality simulation of what it's like to be "locked up in solitary confinement" or give them a look at the future of cancer research. Musical guests will include The Lumineers, Sharon Jones & the Dap-Kings and DJ Beverly Bond, with more announcements promised soon.
It all goes down on Oct. 3. For those who can't be there the festival will stream live on the White House site, as well as on Facebook and YouTube. To gear up, watch President Obama's speech from this year's SXSW in which he advocated for a reimagining of the relationship government and the private sector "so that we use technology data, social media in order to join forces around problems," as he said.