What is Pope Francis' stance on LGBTQ rights and marriage equality?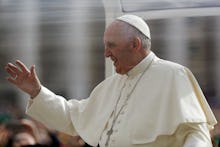 This month, thousands of same-sex marriage opponents have been flooding Mexico's streets following a constitutional reform signed by President Enrique Peña Nieto in May paving the way for marriage equality and transgender rights. 
According to Pink News, this weekend's protests saw anywhere between 80,000 and 250,000 demonstrators alone; since Nieto pushed through legislation to legalize same-sex marriage on Sept. 10, an estimated 1.2 million people have come out to protest marriage equality in Mexico.
On Sunday, Pope Francis — frequently trotted out in media coverage as comparatively progressive, or even "cool" — positioned himself firmly behind the protesters and therefore against LGBTQ rights.
"I am very happy to associate myself with the Bishops of Mexico in supporting the commitment of the Church and of civil society in favor of the family and of life, which in this time require special pastoral and cultural attention in all the world," the pope told a St. Peter's Square crowd, according to Pink News.
This comment may be confusing to those who've been paying attention to the pope's past messages regarding LGBTQ issues, which have given people reason to believe the Catholic church is inching closer to acceptance.
In 2013, the Argentine pope brushed aside the question of gay priests, setting the tone for his stance on homosexuality.
"If someone is gay and he searches for the Lord and has good will, who am I to judge?" he told reporters. 
The following year, Pope Francis called again for compassion, this time advising parents against ostracizing or disowning their gay children. "We have to find a way to help that father or that mother to stand by their son or daughter," Pope Francis told conservative Argentine newspaper La Nación.
Last September, during his tour of the United States, Pope Francis left many confused after he met with Kim Davis, the Kentucky clerk who refused to issue marriage licenses to same-sex couples, in Washington, D.C. Following the visit, a Vatican spokesperson clarified that Davis was among a group of people with whom the pope met that day, and that his meeting with her "should not be considered a form of support of her position in all of its particular and complex aspects."
But if there was any doubt regarding the pope's stance on homosexuality, he seemed to send a clear message when, during his stop in the capital, he met with one of his former students, a gay man named Yayo Grassi, and his same-sex partner. 
Then, in January, Pope Francis doubled down on his calls for acceptance during a Q&A with Italian journalist Andrea Tornielli, .
"I am glad that we are talking about 'homosexual people' because before all else comes the individual person, in his wholeness and dignity," he told Tornielli. "And people should not be defined only by their sexual tendencies: Let us not forget that God loves all his creatures and we are destined to receive his infinite love."
And just this past June, the pope made a comparatively radical statement, declaring that the Catholic church owes gay people an apology for its intolerant stance. He emphasized his "progressive" views on homosexuality weren't just his own — he insisted they're embedded into Christian doctrine.
"I repeat what the Catechism of the Catholic church says: That they must not be discriminated against, that they must be respected and accompanied pastorally," the pope told reporters, according to CNN.
But despite appealing to traditional Catholic principles of mercy and acceptance, Pope Francis' wokeness only goes so far. In August, the pope made controversial statements on transgender identity, insisting that allowing people to "choose their gender" amounts to "ideological colonization that tries to destroy the family." He even went as far as calling the dialogue around gender identity as "a moment of annihilation of man as image of God."
When commenting on Italy's push for same-sex civil unions in May, the pontiff nailed down his points on the sacredness of the family, reminding, "There can be no confusion between the family God wants and any other type of union."
The pope's attitude regarding Mexico's steps toward legalizing same-sex marriage, then, should come as no surprise. When push comes to shove, Pope Francis, and the Catholic church as a whole, will likely never say being gay is OK. 
"Yes, every believer has to accept that we are all sinners and so Francis seems to hope that under this blanket definition all of us will therefore seek the mercy he is so enticingly offering," the Guardian's Peter Stanford wrote in January. "But how many will want ... to label as a sin their failed marriage or their love for another person of the same gender?"
Indeed, along with Pope Francis' "Who am I to judge" statement came this suggestion that gay people confess their sins and work on getting back on the right path when it comes to their sexuality:
"I prefer that homosexuals come to confession, that they stay close to the Lord, and that we pray all together," said the pope. "You can advise them to pray, show goodwill, show them the way, and accompany them along it."