Houston mall shooting Monday leaves "several" injured; gunman killed by police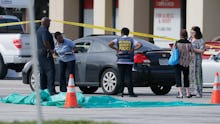 On Monday morning, several people were shot at a shopping center in southwest Houston, the Associated Press reported. The alleged shooter was reportedly shot by police officers, according to tweets from the Houston police department. Local outlet KTRK reported that the gunman had been "shot and killed" by police.
There are no reports of additional suspects. Acting Houston Police Chief Martha Montalvo told CNN on Monday that the alleged shooter was "a lawyer and there were issues concerning his law firm."
According to the Houston Chronicle, the shooting was first reported around 6:30 a.m. local time. The alleged shooter reportedly opened fire near a grocery store in the shopping center. Assistant Chief Richard Mann of the Houston Fire Department told the Chronicle that six people had been taken to hospitals with injuries ranging from "extremity wounds" to those that are "more serious." 
Later reports on Monday indicated that nine people in total were injured in the shooting; CNN reported that three people were treated and released and six were hospitalized, one in critical condition.
According to KTRK, the Houston Fire Department confirmed Monday morning that the shooter had died.
This latest shooting comes only days after a shooting at a mall in Washington state that left five dead. 
This story is breaking and will be updated.
Sept. 26, 2016, 11:58 a.m.: This story has been updated.