'Will & Grace' cast reunite for mysterious project — watch teaser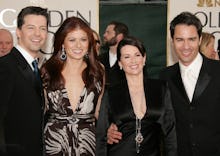 A cryptic teaser released on Will & Grace cast members' Twitter accounts promises, in highlighted red letters, that "WILL & GRACE IS BACK." But what exactly are they back for?
Over the weekend, former Will & Grace castmates Debra Messing, Eric McCormack, Sean Hayes and Megan Mullally dropped hints that something big was happening. At first it was a cute reunion photo:
Then it was more photos of what appeared to be a very familiar setting:
Then it was graphics featuring a logo for something called "Hot Food" (a phrase that matches the front of the script McCormack is holding in his tweeted photo). Messing tweeted the logo with the word "LUCY," Hayes with the word "FRED" and Mullally with the word "ETHEL."
Those are, of course, the names of three of the four principals from I Love Lucy; the fourth being Ricky, who presumably would correspond with McCormack's Will.
All this teasing culminated Monday, as Messing promised in a tweet, in a mysterious teaser trailer.
"A band of heroes will assemble to protect the world from aliens & destruction," the teaser reads (the bolded words highlighted in red). "Only an act of grace can save them in their battle for what is right. Only they can bring America back from the brink."
So what exactly is the reunion for? The highlighted words would seem to indicate some kind of return episode, but the finale of Will & Grace flashed forward many years, seemingly making any kind of in-canon reunion impossible. 
Another possibility is that Hillary Clinton advocate Messing and her co-stars came together for some kind of anti-Donald Trump ad. Considering Mullally's voice can be heard at the end of the teaser making some kind of "Make America Great Again" reference, this isn't a bad bet.
Whatever the case, and in whatever format, Will & Grace is coming back. As Mullally's character Karen Walker would say, "What's this? What's happening? What's going on?"