MacBook Air and MacBook Pro 2016 could be coming — Here's what we know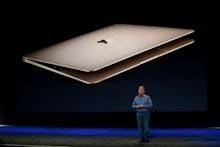 Following the arrival of the iPhone 7 and the Apple Watch Series 2, is Apple gearing up to release another product line? A new MacBook Air and the MacBook Pro 2016 could be around the corner, according to several insiders. 
"Production started in the second calendar quarter on refreshes of the 13.3-inch and 15.4-inch MacBook Pro [and] the 13.3-inch MacBook Air," Rhoda Alexander, director of tablet and notebook PCs at IHS Markit Technology, told Forbes. 
Alexander said she expects "products will launch in late September or October of 2016." Unfortunately, we've already reached late September with no sign of an announcement from Apple. 
A Bloomberg report from August corroborates that prediction. "Apple is planning to release some of the new Mac products as soon as October," the report stated. "The updated line includes tweaked MacBook Air devices with multi-functional USB-C port technology and iMacs with an option for new graphics chips from Advanced Micro Devices Inc."
According to sources, both the MacBook Air and MacBook Pro are expected to feature a thinner design, with the MacBook Air adding a "flatter keyboard" and the MacBook Pro boasting an OLED touch display above its keyboard. The new feature would replace the function keys at the top of the keyboard and provide touch screen access to settings and app-specific shortcuts. A Touch ID sign in, similar to the iPhone, is widely rumored to be included as well.