Drake's 'Please Forgive Me' is just like his new music: safe, predictable and expensive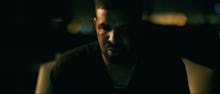 Sunday night, Drake kept fans up late into the night to deliver a long-awaited epic. At midnight, Toronto's own released a 22-minute-long action-packed and sexually charged bombshell of a music video/short film, titled Please Forgive Me and directed by Anthony Mandler, exclusively on Apple Music.
After just a few minutes, it becomes difficult to explain what one is watching. It's too glossy to be camp, too scatterbrained to be a serious narrative work. Drake's newly found dancehall vibes mesh seamlessly with the South African setting where the film was taped, but it only further confirms the impression many already had of his recent work: It's almost entirely lacking in originality and consequence. It's closer to high-budget softcore porn than Oscar, Golden Globe or even VMA fare. No matter how many times he gives himself the job, Drake will never be an action star.
Please Forgive Me is essentially an extended remake of the 2013 short Hold On We're Going Home, another action film starring Drake. In that significantly shorter short film, Drake plays a Miami kingpin whose girlfriend gets kidnapped by a rival gang, leading him on a bloody killing spree to get her back. 
This time around, Drake plays pretty much the same role, just set in Soweto, South Africa. His girlfriend is asked at a party if she'd like to earn a million dollars by sleeping with a gang leader for one night. The group uses Drake's bae as bait to collect the cash, picking her and the money up just before she was to meet with the powerful villain. It all goes wrong when the crew realizes they are sorely outnumbered and dealing with a lot more firepower than they were expecting.
It's Indecent Proposal and Taken mashed up into one disorganized 20-minute project that leaves viewers with more questions than answers. The main one: Why? 
Why would Drake, of all people, the number one rapper in the world with a no. 1 album and several world records to his name, put out such a half-assed, poorly thought-through, 20-plus-minute flop? Why did no one in his crew tell him his video was wack and filled with plot holes? For example: Why does Drake seem to be entirely unbothered by his love's brutal murder at the hand of two female gang members? Was that his plan the whole time? Then what was with all the cheetah walking daydreams about her perfection?
It really only seems to prove the haters out for Drake's blood, particularly Joe Budden, right — Drake is not pushing boundaries, but merely hopping on other people's waves.
Off the silver screen, the provocative heist with heaping doses of sex and violence, has been one better served by other artists this year. Rihanna's "Bitch Better Have My Money" and "Needed Me" followed similar narratives — granted the latter featured gaps in its plot as well. Still, both those projects included a lot more original imagery, more engaging plots and better acting. The only significant beat Drake brings is his signature face rub, which he employs over and over again.
To a certain extent, vague, muddled storylines in music videos are commonplace. However, short films leave the viewer expecting clear character motivations, clear beginnings, middles and endings. Please Forgive Me instead offers something in between. There is a plot, and Drake seems to be trying to communicate something significant through his blank stares, but it's impossible to unpack and ultimately not worth it.
It only serves to make every other artist who released a visual opus this year — Beyoncé's Lemonade, Vince Staples' Prima Donna, even Ocean's tedious Endless — seem impossibly genius and way out of Drake's league.