Here's why you should study abroad now more than ever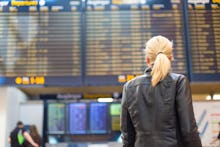 In 2015, a record number of Americans took to the skies for international travel destinations. According to the National Travel & Tourism Office, international travel by U.S. citizens increased by 7.7% last year.  And with the U.S. State Department expecting to issue 17 million new and renewed passports this year — a 1.5 million increase over last year — that trend looks likely to continue.
At a time when transatlantic politics — from the isolationist strains of the American presidential campaign to Brexit — urge a retreat from a perilous world, it's an encouraging sign that Americans still want to see and be a part of that world. Even more encouraging is how many of them are students.
In the 2013-2014 academic year, 304,467 American students studied in other countries — a 5.2% increase over last year, according to NAFSA: Association of International Educators, and a threefold increase over the past two decades. This bodes well not only for American businesses looking to hire young people with experience abroad, but also for this generation's commitment to exploring the planet.
"Overall, parents, schools and universities believe that travel really is the answer to exposing students worldwide to other cultures, building tolerance and awareness and a greater understanding of the world outside their own homes," Carylann Assante, executive director of the Student & Youth Travel Association (SYTA), said in an interview. "Our studies show the very positive social impact of travel."
According a SYTA survey of U.S. teachers, student group leaders and tour operators, 74% of students who studied internationally reported an increased tolerance of other cultures and ethnicities after traveling.
For New York University alum Dalanee Hester, 22, studying abroad in Paris and Sydney was like "stepping out of the small bubble I live in and thinking about how someone in a different bubble could see a situation in a totally different way," she said in an email.
A worldly workforce. Johanna Li spent her freshman year in Paris in 2012 and credits the experience with developing her sense of courage and empathy. "I've become more daring, more willing to take chances, more willing to say 'yes' rather than 'that's not in my comfort zone,'" said Li, 22, in an email. "I've learned to strike [up] a conversation with anyone on the streets. I've learned to be flexible and empathetic to others' experiences."
According to Janet Alperstein, Assistant Vice President of New York University's Office of Global Programs, this sort of experience is "invaluable" to employers. "Studying abroad can help students develop cross-cultural competencies, which are critical to succeeding in today's increasingly interconnected world," said Alperstein in an email.
The U.S. government similarly recognizes the benefits of international education and exposure. Offering a range of different ways to interact with the global community, the State Department promotes high-school and college study trips, internships, and volunteering opportunities, with programs ranging from two weeks to a full year abroad and opportunities for financial aid.
Rejecting xenophobia. Beyond the more immediate benefit of enhancing your professional marketability, studying abroad offers an essential antidote to the fear-mongering and nationalist politics gaining ground in Europe and the U.S. 
Hester found the doomsayers' warnings about the dangerous world abroad to be "infuriating" compared to her actual experience. "The descriptions of places I visited as dangerous or scary paired with broad generalization about entire groups of people seemed ridiculous to me," she said.
When considering an opportunity to complete her master's degree in public health in London for the upcoming academic year, Katie Ottman, 25, saw the recent referendum on British independence from the European Union as cause for both concern and inspiration.
"I wasn't sure how Brexit would affect the political climate," said Ottman, who was put off by the anti-immigrant and Islamophobic sentiments that came out of the Leave camp. But she saw the decision to study abroad as a defiant act of openness and optimism.
"The only way that our generation and the next can overcome prejudice and xenophobia is by interacting with individuals from other parts of the world," Ottman said. "The best way is to work to restore compassion between different cultures through communication and understanding."