Will Ivanka Trump be at the first presidential debate?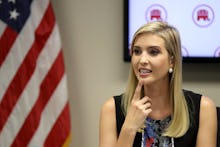 With hours to go until Donald Trump and Hillary Clinton's first debate, it is still unclear whether one of Trump's closest advisers will attend his contest with Clinton. We do not know whether Ivanka Trump, Donald Trump's 34-year-old daughter and a close campaign confidant, will be in the audience in Hempstead, New York. But if her father follows his usual debate script, she will be nearby. 
Ivanka introduced Trump when he announced his campaign and when he gave his keynote speech at the Republican National Convention. During primary debates, Ivanka Trump offered the candidate advice during commercial breaks.
Donald Trump's oldest daughter has tried to soften the image of her father among women. Ivanka Trump has said her father championed the advancement of women at his companies. At the RNC, she made the case that women should trust Donald Trump to create wage equality because "my father has made it a practice at his company throughout his entire career." And she recently championed a childcare proposal that Donald Trump announced earlier this month. Donald Trump needs his daughter's help — a recent poll found 55% of women plan to vote for Clinton in November. 
Ivanka Trump has emerged as the ringleader of the Trump children. It was she who brought the consensus of the Trump children heavily involved in the campaign — which includes Eric, 32, and Don Jr., 38 — to their father and convinced him to fire former campaign manager Corey Lewandowski. 
Ivanka Trump works with her brothers on the day-to-day management of the Trump Organization. She is also a successful fashion mogul. 
The first presidential debate Monday night will have no commercial breaks. But even without the chance to give her father pointers during the debate, Ivanka Trump has likely already influenced how her father will approach Clinton.