Women in Saudi Arabia just filed a petition to end the male guardianship system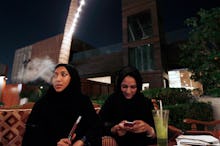 Women in Saudi Arabia are filing a petition calling for an end to the country's male guardianship system, a set of policies that effectively treats women as minors, mandating important decisions surrounding marriage, travel, careers and more be decided by the men in their lives.
According to the BBC, an activist named Aziza Al-Yousef attempted to hand deliver the petition, which boasts over 14,000 signatures, to the Royal Court on Monday with the help of another activist. They were later told to send it in by mail instead.
Yousef told the BBC one of the petition's key demands is that every woman would be "treated like an adult" once she passes a designated age between 18 and 21. "In every aspect, the important issue is to treat a woman as a full citizen," she said.
The petition hasn't received an official response yet.
The campaign to secure Saudi women's autonomy gained traction in July, following a Human Rights Watch report which called the male guardianship system "the most significant impediment to realizing women's rights in the country." After interviewing Saudi women across the country about their experiences, HRW launched the hashtag #TogetherToEndMaleGuardianship, where even more women shared their stories and spoke out against the centuries-old tradition.
"Whenever someone tells me, 'You should have a five-year plan,' I say, 'I can't,'" a 25-year-old woman name Zahra, whose father wouldn't let her study abroad, told HRW. "I'll have a five-year plan and then my dad would disagree. Why have a plan?"
Saudi women have long been leading the charge to end the guardianship system, according to HRW. Activists had some success in 2009 and again in 2013, when the government promised to abolish it after the United Nations Human Rights Council conducted its Universal Periodic Review. However, the officials only loosened certain regulations, allowing women to vote and run for office in 2015. Following the historic elections, 20 women assumed seats in Saudi Arabia's local government. 
But one woman named Jana told CNN those changes only create the illusion of progress — not the real thing.
"Saudi Arabia is lying to the world," Jana said. "Nothing is changing."
Earlier this year, Saudi religious leaders doubled down on the country's ban on female drivers, insisting driving is a "dangerous matter that exposes women to evil." But women aren't taking these sexist policies sitting down. Despite not being allowed to drive a car, in February, three women landed a plane in the country, marking the first time an all-female flight deck for Royal Brunei Airlines flew a plane. 
Yousef herself got into trouble with Saudi police in 2013 for driving, according to the BBC, but she told the outlet she's not worried about any backlash from Monday's petition. 
"I'm not worried," she said. "I'm not doing anything wrong."