Kid Cudi's 'Passion, Pain & Demon Slayin'' tracklist features André 3000 and Willow Smith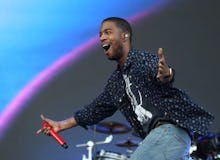 Kid Cudi is recruiting some of the biggest names in the music industry for his forthcoming album Passion, Pain & Demon Slayin'. The artist revealed the track list for his long-awaited next project on Twitter Monday, including 18 tracks featuring artists like Pharrell Williams, Willow Smith, Travis Scott and more.
The album track list arrives on the heels of an epic tweetstorm Kid Cudi penned, in which he claimed to have "so many haters within the industry." The rapper specifically called out his mentor and longtime collaborator Kanye West, as well as Drake — neither of whom appear on Passion, Pain & Demon Slayin'. 
"The days of fuckery are over," Cudi claimed. With his next album, he'll have the chance to prove it. 
The album is divided into four "acts": "Tuned," "Prophecy," "Niveaux de l'Amour" and "It's Bright and Heaven is Warm." Kid Cudi has already confirmed he's finished two albums in 2016. So far, there is no official release date.
Read the track list for Passion, Pain, & Demon Slayin' below.