Emma Watson creates moving short film on gender equality called "Hurdles"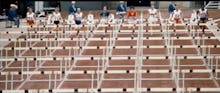 Actress, activist and U.N. ambassador Emma Watson has released a powerful short film with Global Citizen highlighting the obstacles women have overcome to achieve gender equality. The film — titled "Hurdles," narrated by Watson — takes footage from the women's 80-meter hurdles final at the 1964 Summer Olympics in Tokyo for a literal interpretation of all the hurdles woman have gone through, historically. 
"Women and girls have always faced hurdles," Watson says. "But that's never stopped us. We've sacrificed, fought, campaigned, succeeded, been knocked back and succeeded again. In the race for justice, we've leapt over countless obstacles to win our rights." 
The video highlights some of the achievements for the advancement of equal rights, such as the U.S. passing the Equal Pay Act in 1963. At the end of the video (and the race), Watson points out what still needs to be addressed — the 15 million child brides wed every year, 62 million girls without an education and women who are still subject to violence. 
"There are many huge and high hurdles left to jump," Watson concludes. "The race is still on, every day of every year of our lives, but we will cross the finishing line. No one can stop us." 
Watch the video, posted on Watson's Twitter, below.