NYC Mayor's Office launched first ever citywide campaign to halt anti-Muslim violence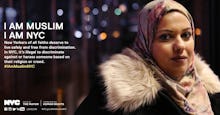 Anti-Muslim hate crimes spiked in 2016 — most notably during the start of the presidential election cycle — and New York City officials hope to combat their rise through a series of public service announcements and educational workshops.
On Monday, New York City Mayor Bill De Blasio's Commission on Human Rights launched an expansive social media campaign aimed at stemming these instances of Islamophobia. The campaign consists of five banner ads featuring Muslim New Yorkers. 
The text embedded in the ads reads, "I am Muslim. I am NYC." Cumulatively, they seek to remind New Yorkers that religious-based harassment and discrimination is illegal in the city.
"These bold new ads affirm every Muslim New Yorker's right to live safely and free from discrimination," Carmelyn P. Malalis, chair and commissioner of the NYC Commission on Human Rights, said in an email. "They also show that Muslims are hardworking New Yorkers just like you and me. They are our police, our teachers, our small business owners and our neighbors and they deserve the same respect as everyone else."
In partnership with the Mayor's Community Affairs Unit, the Office of Immigrant Affairs and other NYC Muslim community leaders, the Commission on Human Rights will supplement the campaign with educational events aimed at improving interfaith relations and combating Islamophobia in the city.
One of these will be a workshop titled "Understanding Islam," to be held at New York University's Islamic Center; the workshop is designed to help city, public and private employees learn more about the faith and break any misconceptions about Muslims. The pilot workshop is scheduled to begin in October.
These workshops could hardly come at a better time.
Anti-Muslim violence has been of pressing concern to the American Muslim and New York Muslim communities due to numerous incidents and threats received in recent years. In 2016 alone, for example, a female Muslim tourist — wearing a headscarf and traditional Muslim garments — was set on fire by an attacker in Midtown Manhattan on Sept. 10.
Before that, on June 5, Mohamed Rasheed Khan was brutally beaten by three men when riding his bicycle home from evening prayers at his mosque in Jamaica, Queens. He suffered severe rib and eye fractures and a concussion, and required surgery following the attack.
Finally, the murders of Imam Maulama Akonjee, 55, and his assistant Thara Uddin, 64, also led to an uproar and protest from many New York Muslims. Akonjee and Uddin were shot execution style on Aug. 15 when walking home from their mosque in Ozone Park, Queens. The crime remains unsolved; New York police are investigating the incident as a hate crime.
Equally alarming is that rates of anti-Muslim hate crimes and violence are far higher now than they were in the early years following the Sept. 11th attacks in 2001. Researchers have linked the spike of anti-Muslim violence to fear stemming from terrorist attacks and Islamophobic vitriol spewed by presidential candidates like Donald Trump.
In December 2015, for instance — the same month Trump called for "a total and complete shutdown" on all Muslims entering the U.S. — a study by Georgetown University's Center for Muslim-Christian Understanding found 53 reported incidents of anti-Muslim hate crimes.
Since March 2015, the same study documented over 180 reported incidents of anti-Muslim violence, including "12 murders; 34 physical assaults; 49 verbal assaults or threats against persons and institutions; 56 acts of vandalisms or destruction of property; nine arsons; and eight shootings or bombings."
These numbers still don't tell the full story about anti-Muslim backlash in the United States. According to data from the Department of Justice, two out of three Muslim Americans said they don't report hate crimes because they don't believe the incidents will be taken seriously. On Friday, the Columbia Journalism Review estimated there are approximately 156,000 Muslim Americans who have experienced anti-Muslim violence. 
In the midst of it all, representatives of the New York City Commission on Human Rights hope their anti-Islamophobia campaign will soothe the concerns expressed by the New York Muslim community and extinguish anti-Muslim vitriol.  
"In New York City, we will not tolerate discrimination or violence of any kind against hardworking Muslim communities and their families and we will not let the hateful rhetoric that has become so prevalent in our national dialogue become the norm in our great city," Malalis said.