Gucci Mane set to star in 'The Trap' alongside Al Pacino and publish a book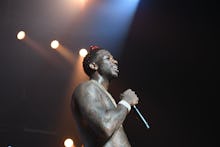 Gucci Mane is living his best life after being released from a federal penitentiary earlier this year — a life few likely saw coming for the former lean-sipping, regularly incarcerated rapper. The rapper has made a full 180, staying sober, slimming down and releasing a steady stream of new music and videos, while simultaneously diving head first into a slew of new high-profile projects outside rap. 
According to his recent profile with GQ, Gucci has quite a bit in the works. Among the stand-outs: the Atlanta legend has signed a book deal with the major publisher Simon & Schuster. He's also collaborating with director Harmony Korine on a new film set for production, starring alongside some of Hollywood's biggest: Al Pacino, James Franco and Benicio del Toro. He's also working on his own clothing line Delantic, named after his middle name. 
Gucci Mane may about to become the Renaissance man fans have always wanted him to be.
It seems like Gucci is also trying to take each project seriously as possible, and not just signing on to any old thing to boost his presence. "We just trying to make a super-duper dope clothing line," Gucci said of Delantic. "Well made. Well crafted ... I don't want to do what everyone else does. What can we do to make ours better?"
As for his upcoming film with Pacino, Gucci has enlisted the help of Korine, one of his longtime pals and collaborators. The two worked on a Supreme clothing line short video, as well as on Franco's film Spring Breakers. "Harmony is my close friend, so it was easy," he said. "He's super creative. Me and him work good together because we just freestyle shit, both of us don't have no rigid mind state when we bring something to life. I love to act."
In these varied pursuits he's following in the footsteps of some of music's biggest power players: Rihanna has launched several fashion lines and collaborated with Korine on her violent and edgy "Needed Me" music video. Lil Wayne is apparently releasing a book as well, reflecting on his time spent at Rikers Island. Drake has been starring in his own short films, like his most recent work Please Forgive Me — as underwhelming and overwrought as it might have been. 
Diversifying the brand is the new M.O. for music's brightest. All Gucci has to do now is deliver — a feat much easier said than done, especially when considering the sheer number of projects he's working on simultaneously. It will be a true test of his talents, but one he seems ready to face. There's room at hip-hop's top creative echelons for more than just Kanye, Drake and Wayne.