Is Disney buying Twitter? Either way, $DIS is plummeting like Mufasa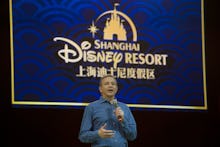 Imagine Disney, the home of Mickey Mouse and Snow White, owning Twitter, the home of Trump-loving neo-Nazi trolls and flat-Earth truthers. It could happen: Bloomberg just dropped a big scoop about the Walt Disney Co. considering a bid for Twitter.
The company is currently in talks with a financial adviser, according to Bloomberg. Sources told CNBC a Twitter sale could occur in the next 30 to 45 days.
Immediately, Disney stock plummeted while Twitter's rose quickly.
The acquisition could be a smart move. Twitter could be a video-streaming platform for channels like ESPN and ABC. "What Disney has to think about is ... its place in a post-cord-cutting world," analyst James Cakmak told Bloomberg. "They are investing in technology for distribution — and this would give them the platform to reach audiences around the world."
Still, the idea of Twitter, which has faced a barrage of criticism for its inability to contain racist harassment and other abusive behavior, being part of the Happiest Place on Earth? 
As Grandmother Willow said in Pocahontas, "Sometimes the right path is not the easiest one."
This story is developing.